Essential HD 11.6''
Student Success Starts Here
Dual-monitor computer setups aren't strictly for office workers. K-12 and college students can also benefit from the boost in efficiency and productivity that a second screen provides. SideTrak Essential 11.6" portable computer monitor is optimized for education, built tough, offers a wealth of student-friendly features, and connects seamlessly to Chromebooks and laptops to instantly enhance learning.
PRODUCT OVERVIEW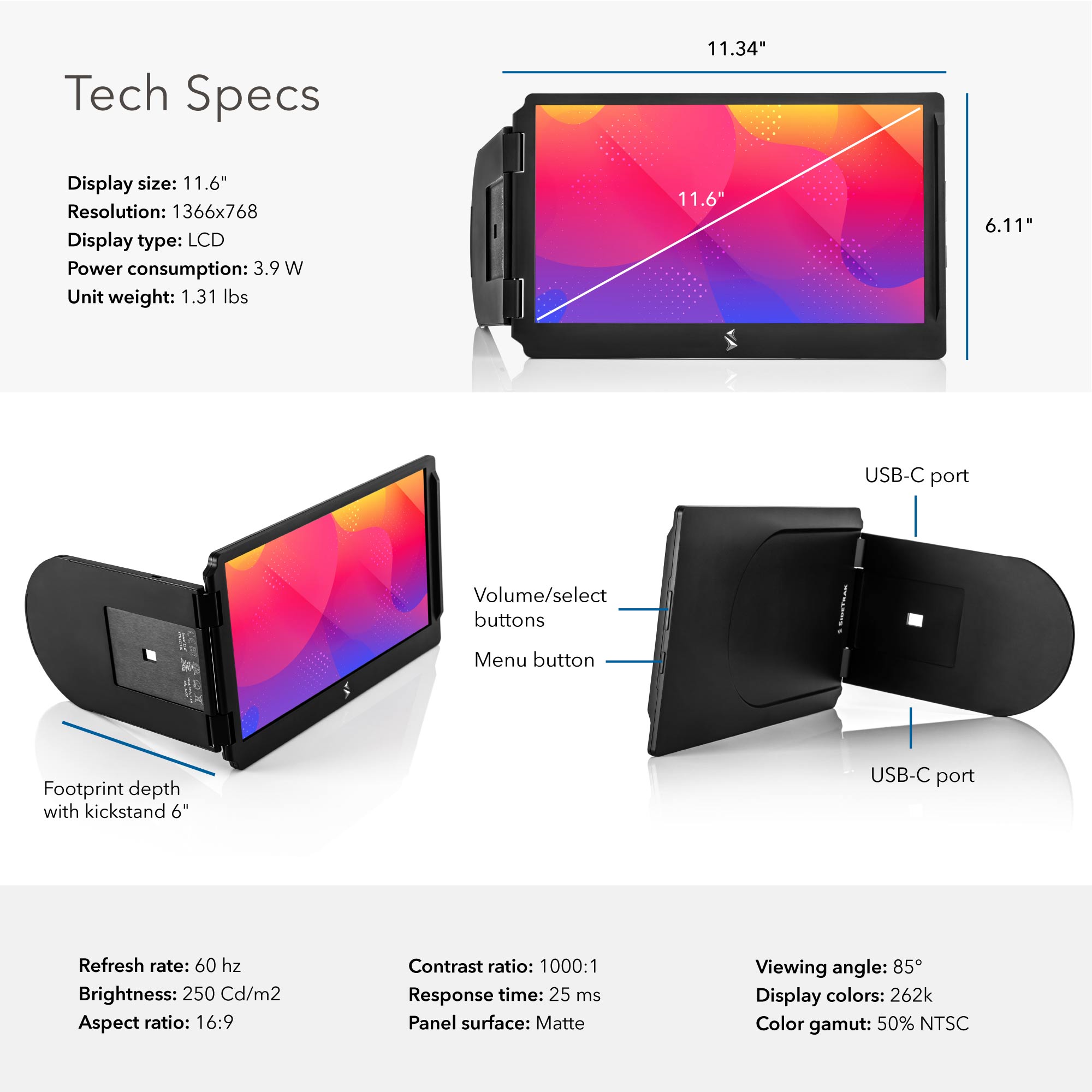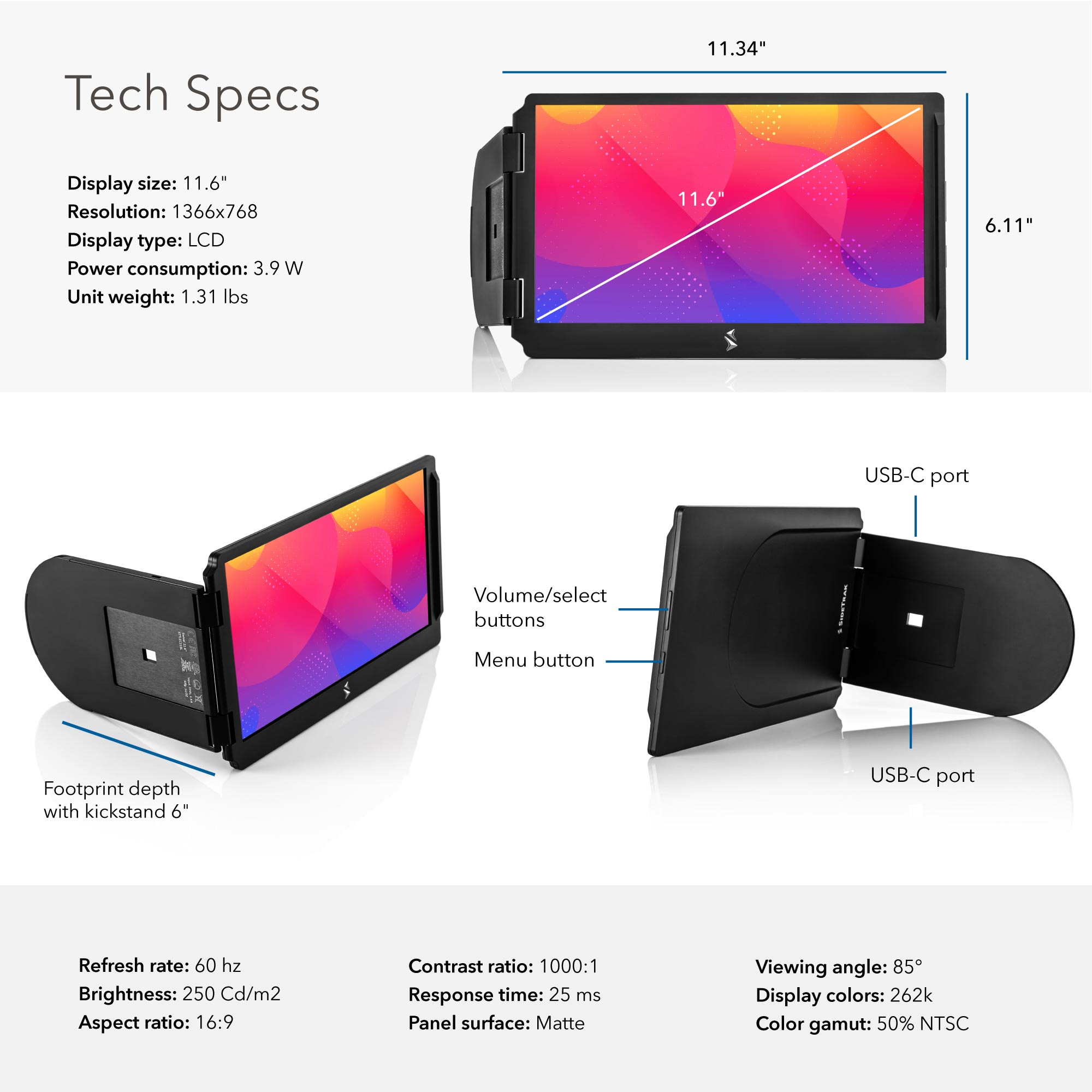 Technical Specification & Compatibility

Dimensions & Weight

Dimensions: 11.34" x 6.11" x 0.51"
Weight: 1.3 lbs

Screen Specs

Screen Size: 11.6"
Panel Type: TFT
Display Type: LCD
Resolution: 1366x768
Brightness: 250 cd/m2
Response Time: 25 ms
Refresh Rate: 60 Hz
Aspect Ratio: 16:9
Contrast Ratio: 1000:1
Power Consumption: 3.9 W

Compatibility

Download: No download required for Chromebooks or laptops with compatible USB-C ports. If your laptop doesn't have a compatible USB-C port, download the DisplayLink driver, and connect using the included USB-A adapter.
Operating System: Windows & Chrome
Ports Required: Thunderbolt USB-C or USB-A and HDMI
Device Size: Any
Enhanced Learning, Anywhere
Designed and Built to Last
Transform Classroom Collaboration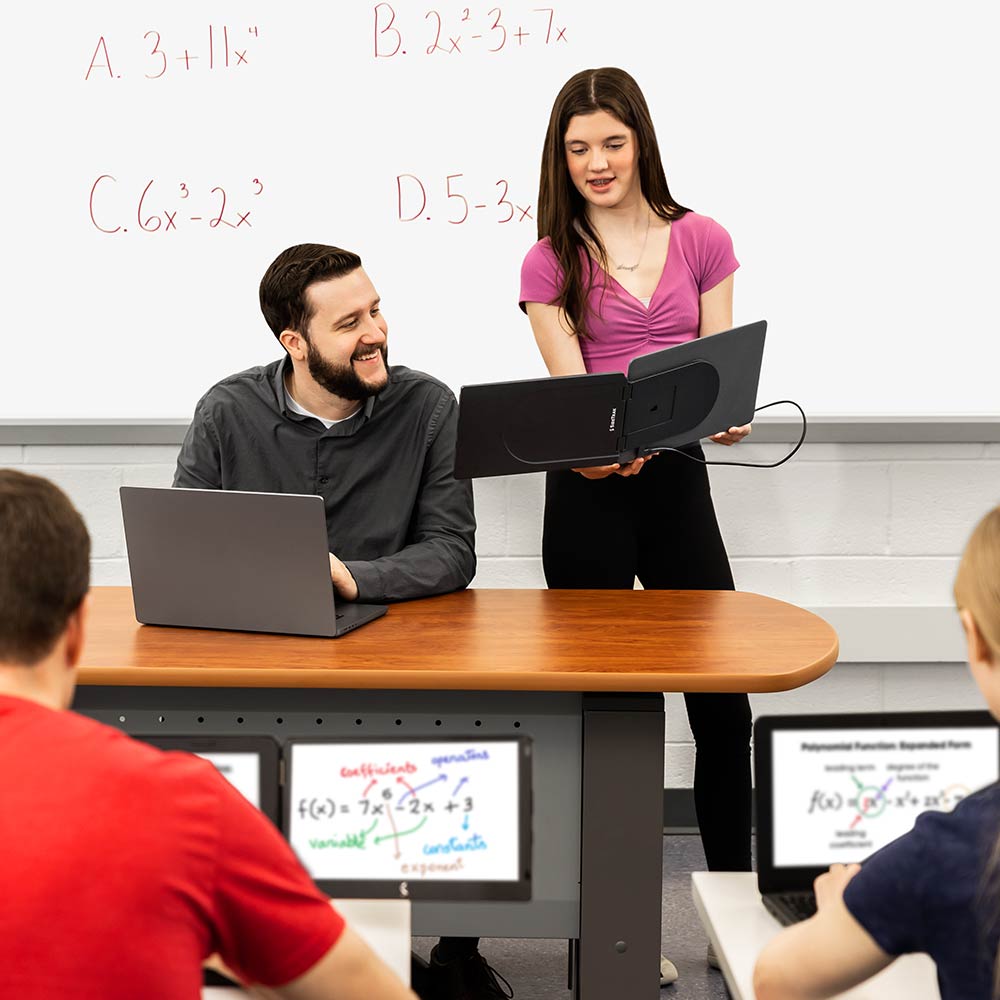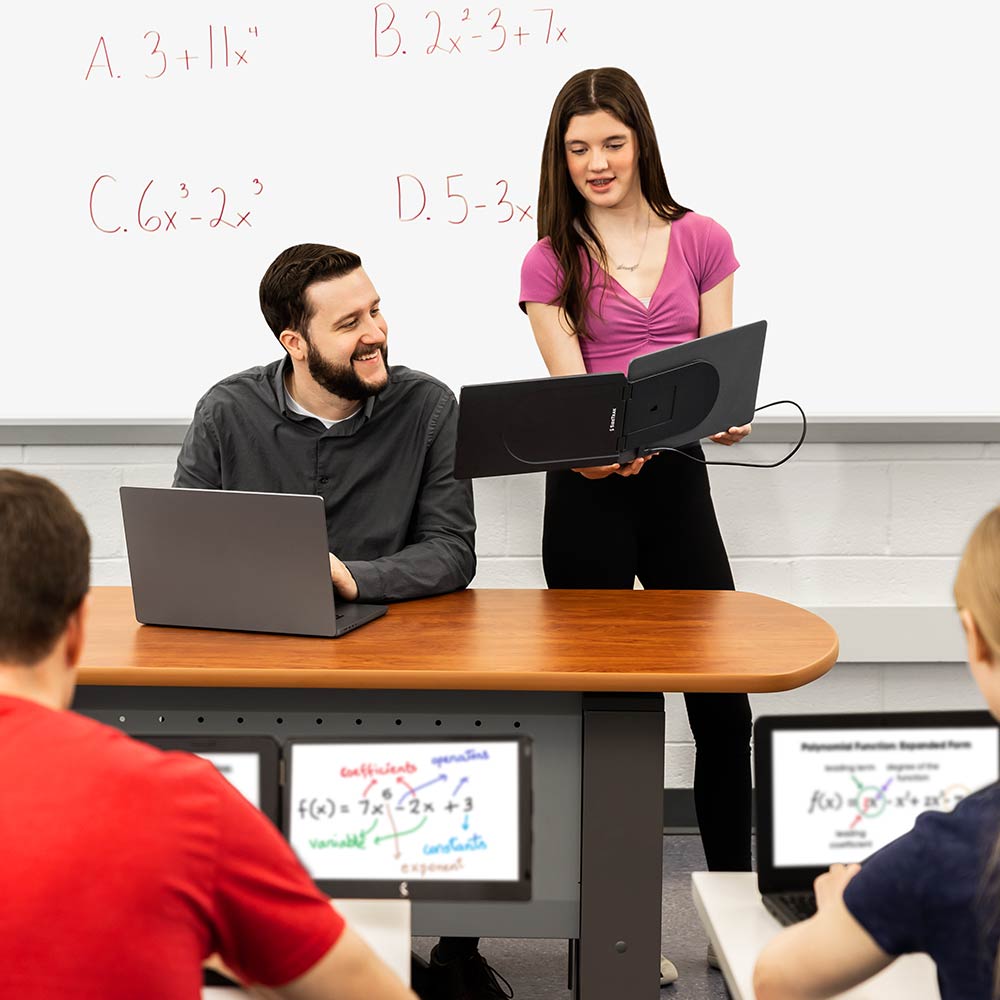 Enhance Education with Instant Connectivity
Designed with education in mind, this attachable monitor features the same screen size and resolution as the Chromebook models found in most classrooms. It's also built for ease of use, thanks to a convenient single-cord connection. Teachers and students can simply attach, power up, and go.
Enjoy More Screen Space Without More Desk Space
Typical student desks are not sized for dual-screen setups. With SideTrak Essential, that's not a problem. This small travel monitor eliminates the need for a large desktop, empowering dual-screen productivity in the classroom, in the library, on the bus, or at home on the couch.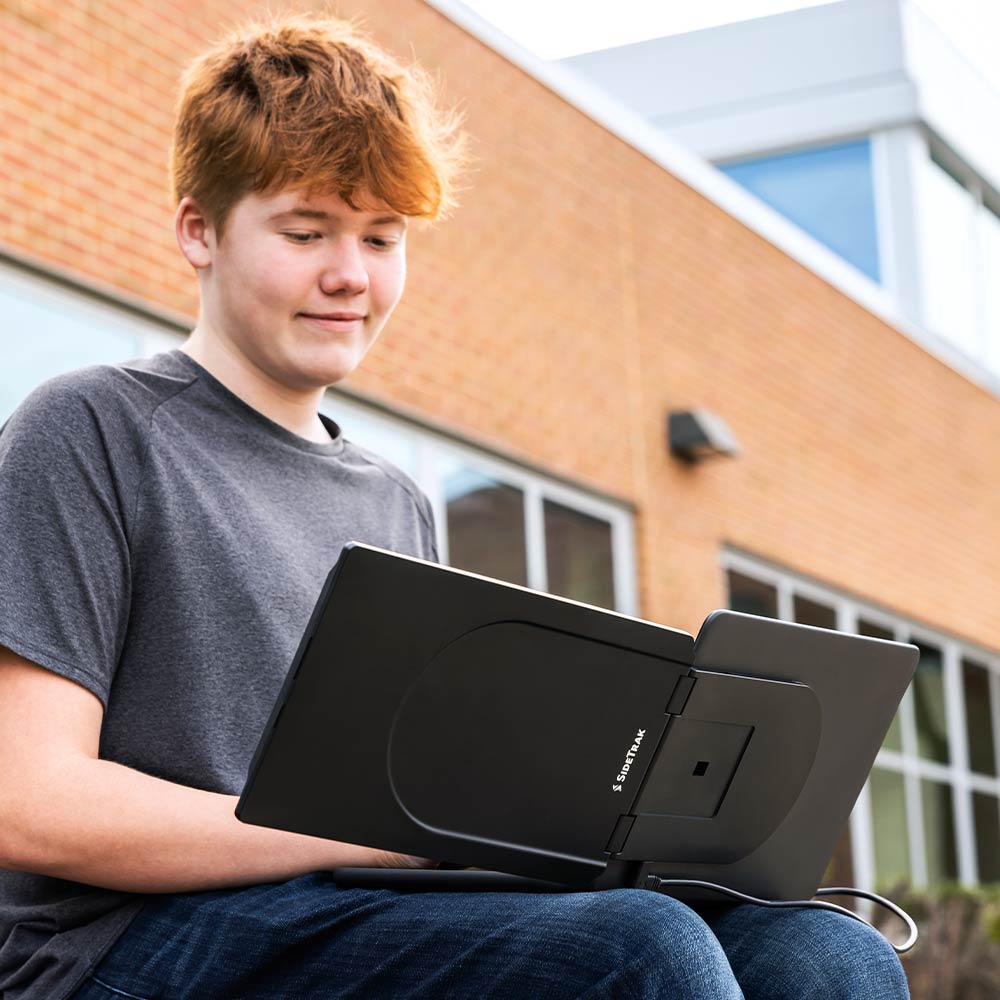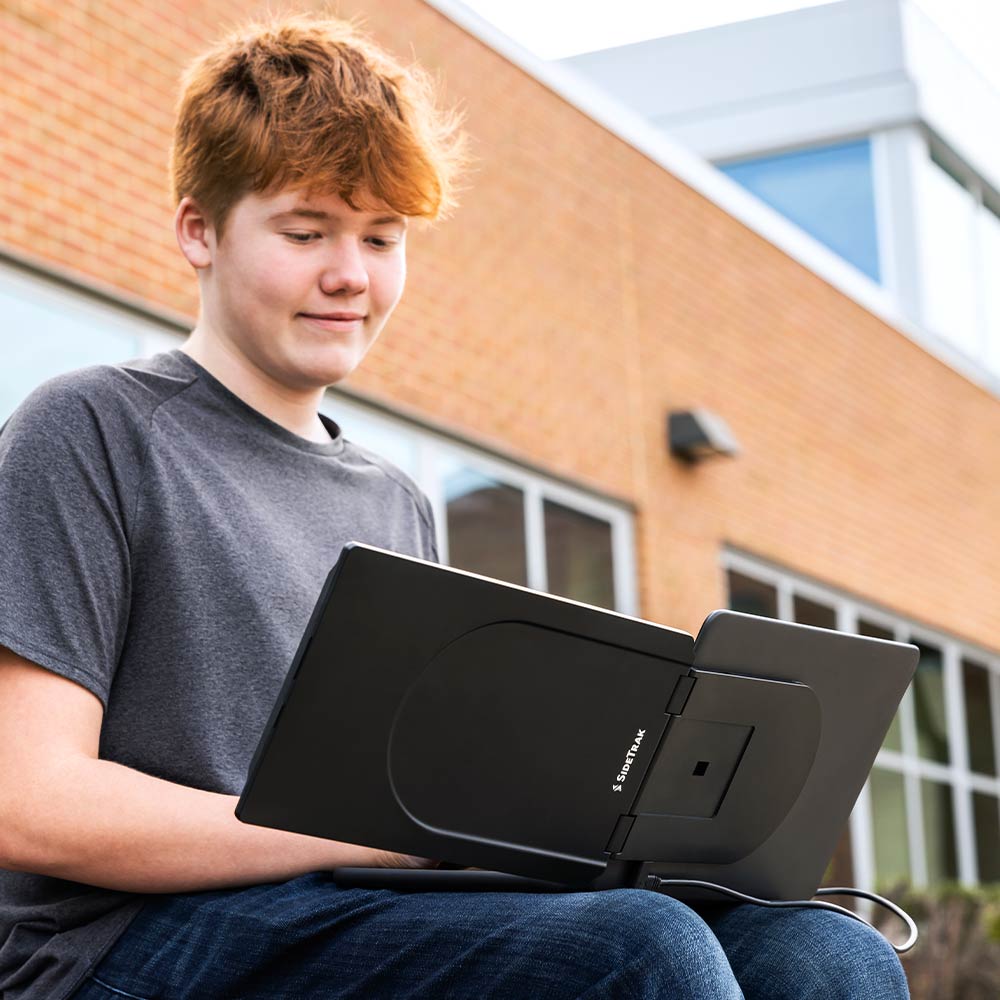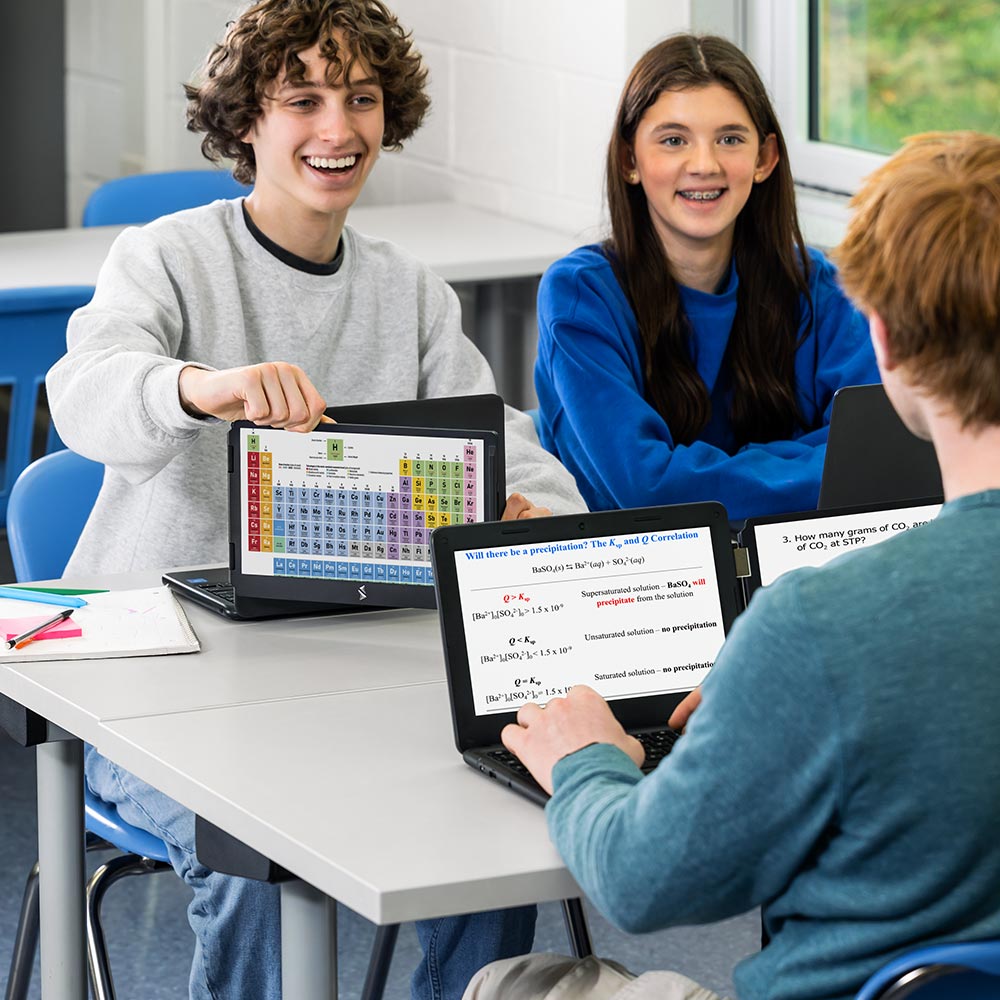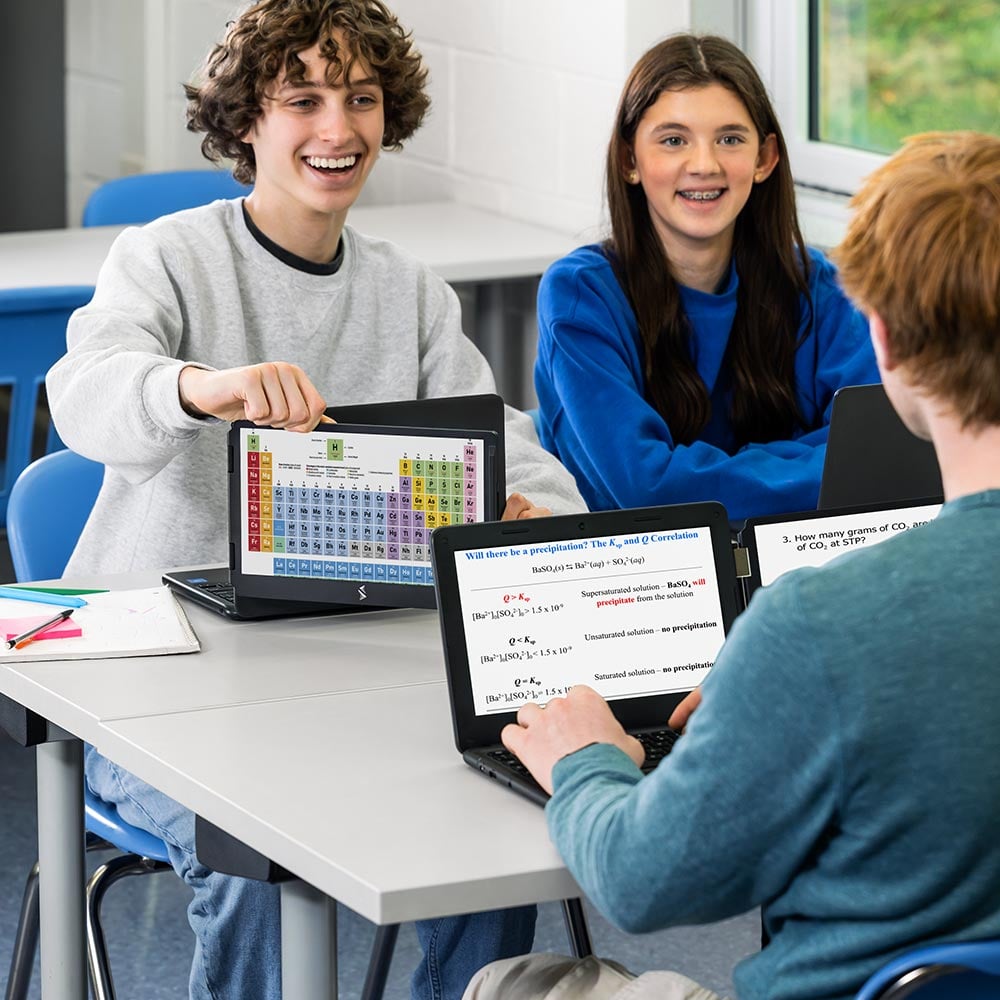 Promote Collaborative Classrooms
With this 270° rotating monitor, it's a snap for students to mirror their screens to share with their teachers, collaborate with classmates on group projects, or take notes while engaging with online resources or textbooks.
Benefit From
Long-Lasting Durability
Built to withstand daily student use, this small portable monitor for laptops features built-in drop protection and rugged construction. When it's time to pack up, SideTrak Essential's slim, lightweight design allows it to pack easily in students' bags for effortless transport.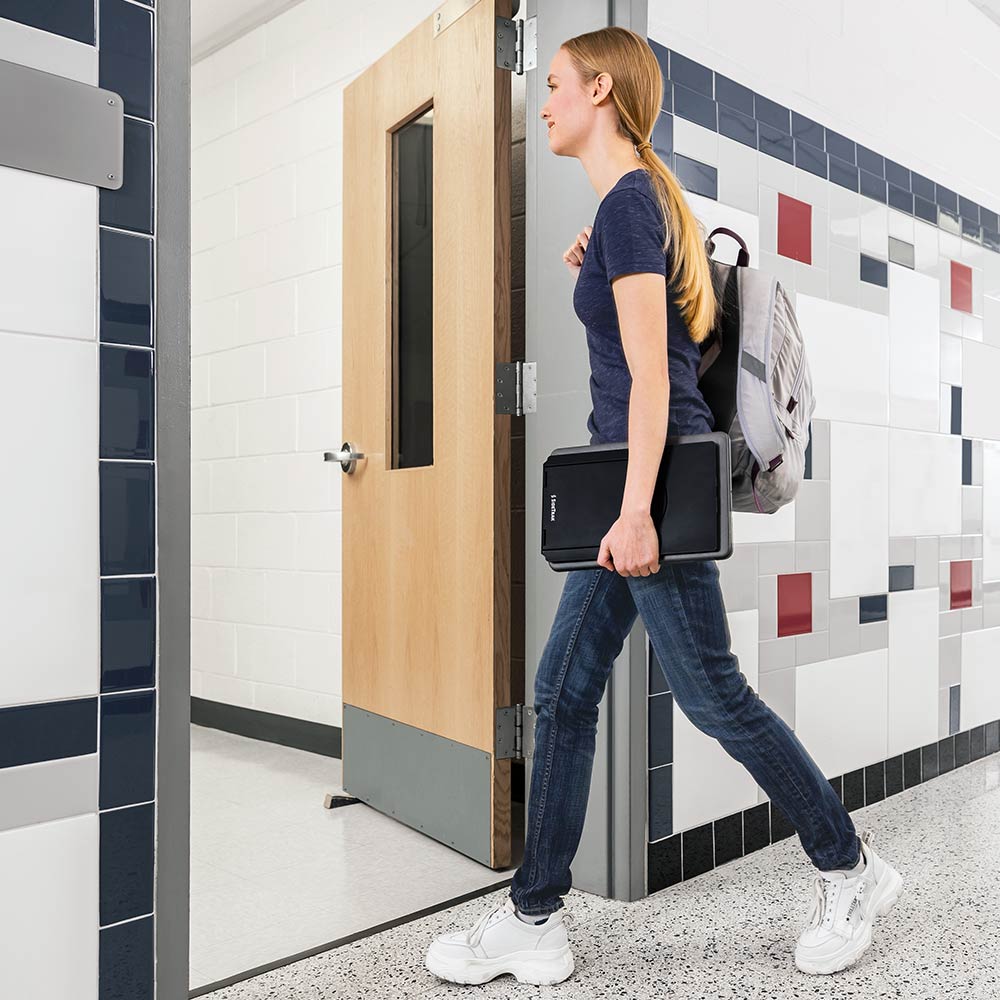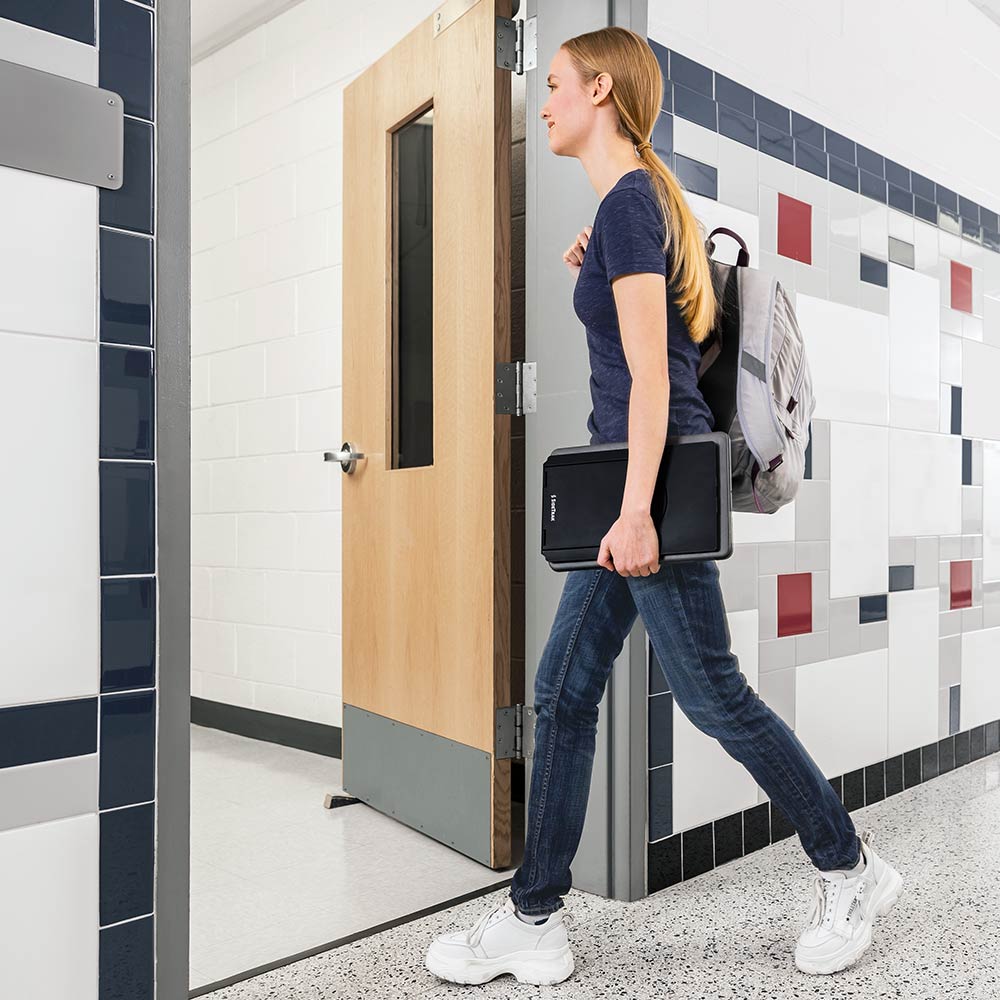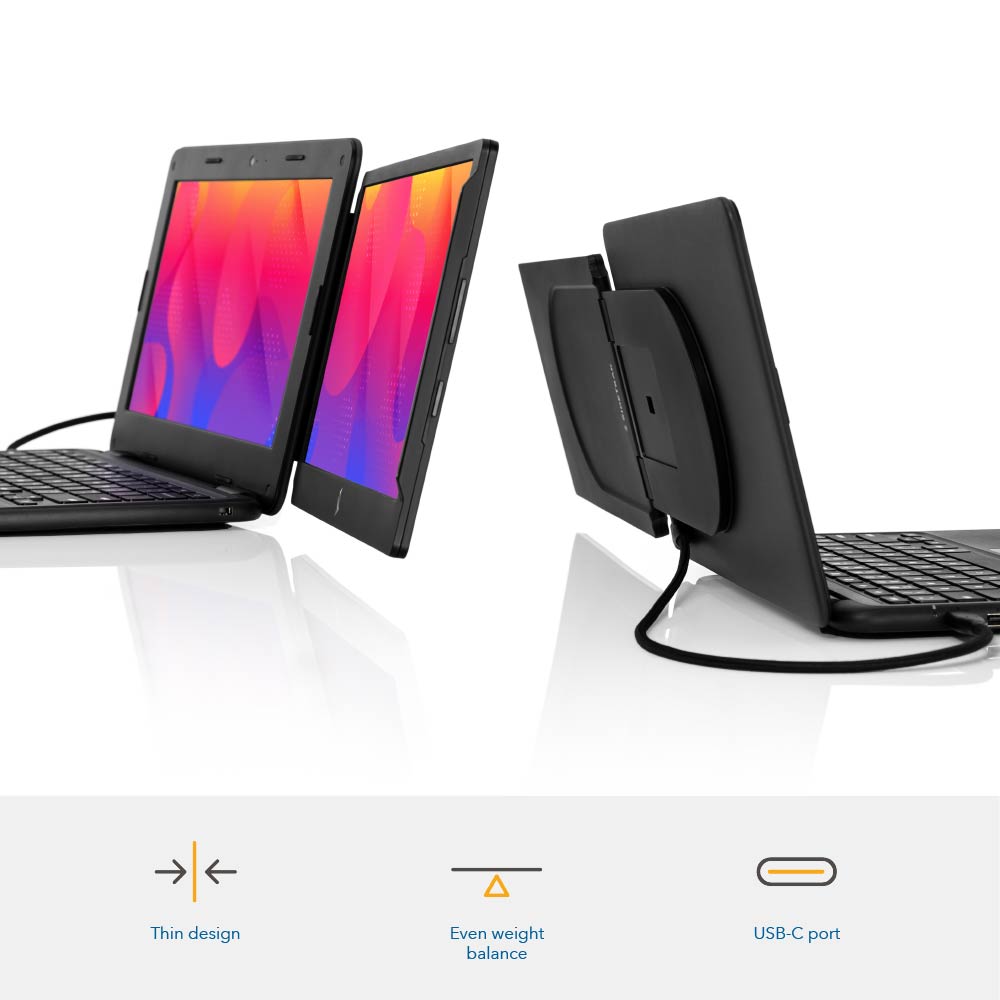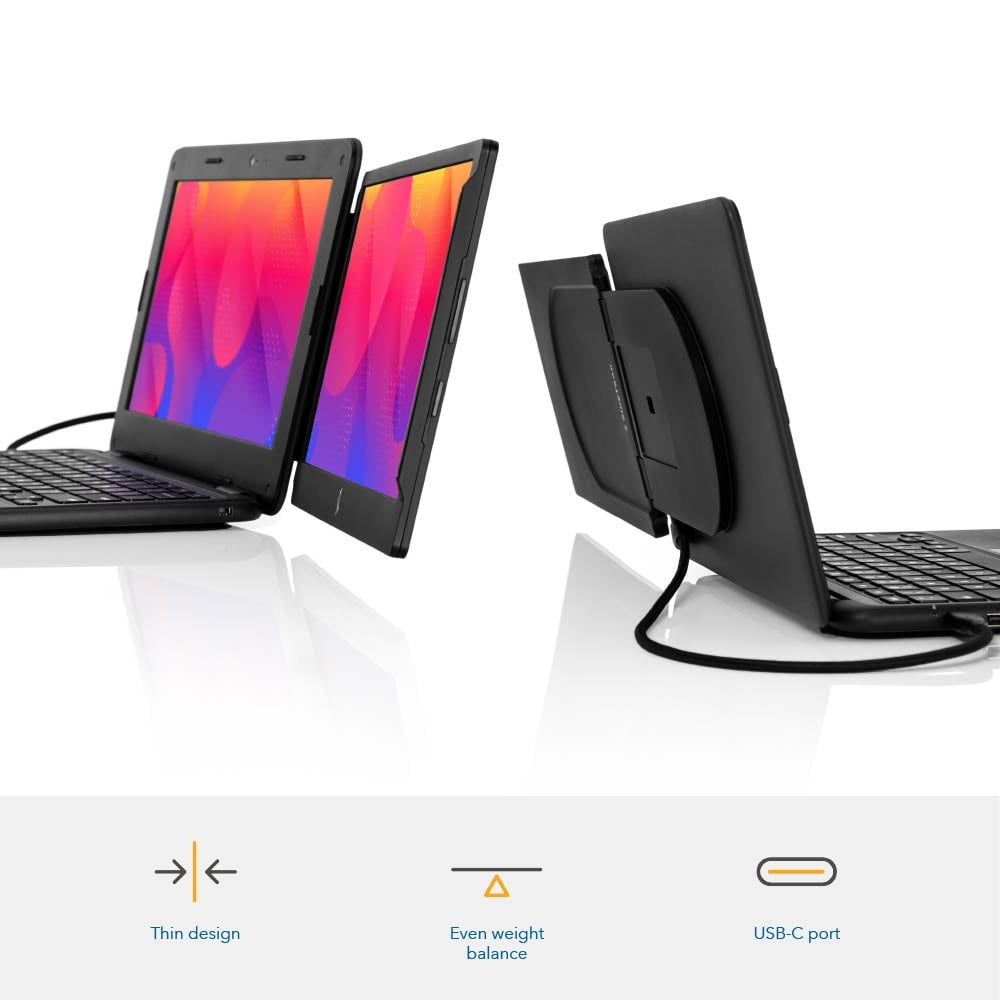 Unique Features
Thoughfully designed for even weight distribution, SideTrak Essential magnetically attaches to the back of any laptop without weighing your device down. This ultra-thin monitor features a compact 11.6" screen and a clear 1366 x 768 resolution to complement the majority of Chromebooks found in classrooms today. Students and teachers can easily connect the portable monitor with a single included USB-C cord, with no driver download needed for compatible devices.
COMPARE PRODUCTS
$299.99
Education-optimized portable monitor that effortlessly attaches to Chromebooks and laptops.
Attachable 11.6" monitor rotates 270° for easy collaboration and screen sharing

 

Enhances remote and classroom learning by doubling screen space

 

Lightweight monitor folds flat against laptop for effortless transport

 

Student-friendly features include built-in drop protection and an optional kickstand

 

Quickly connects to Chrome operating systems, no driver required

 

Windows compatible, may require a download

1366 x 768px resolution matches Chromebooks for cohesive, consistent viewing

 
CURRENT SELECTION
$319.99 - $349.99
Game-changing portable monitor with a patented 360º swivel design that doubles your screen space.
Full HD portable monitor with crisp 1920 x 1080 resolution
Exclusive 360° swivel hinge and 270° screen rotation
Attaches seamlessly to any laptop with a hidden magnetic plate
Freestanding functionality with built-in kickstand and autorotation
Durable, lightweight frame folds flat for effortless travel
Compatible with Windows, Chrome, and Mac
See Full Details
$549.99
Ultra-sleek attachable monitor with a patented Swivel hinge creates an expansive dual-screen viewing experience.
Full HD 13.3" attachable portable monitor 

Screen features a unique 

360°

swivel and 270

°

rotation for customizable configurations

Freestanding functionality with a built-in kickstand for maximum productivity, anywhere 

 

Lightweight aluminum frame with tempered glass display for added durability 

 

Seamlessly folds against laptops for on-the-go travel 

 




Mirrors, extends, and auto-rotates for ultimate viewing versatility 

 
See Full Details