Solo 4k Touch 15.6"
PRODUCT OVERVIEW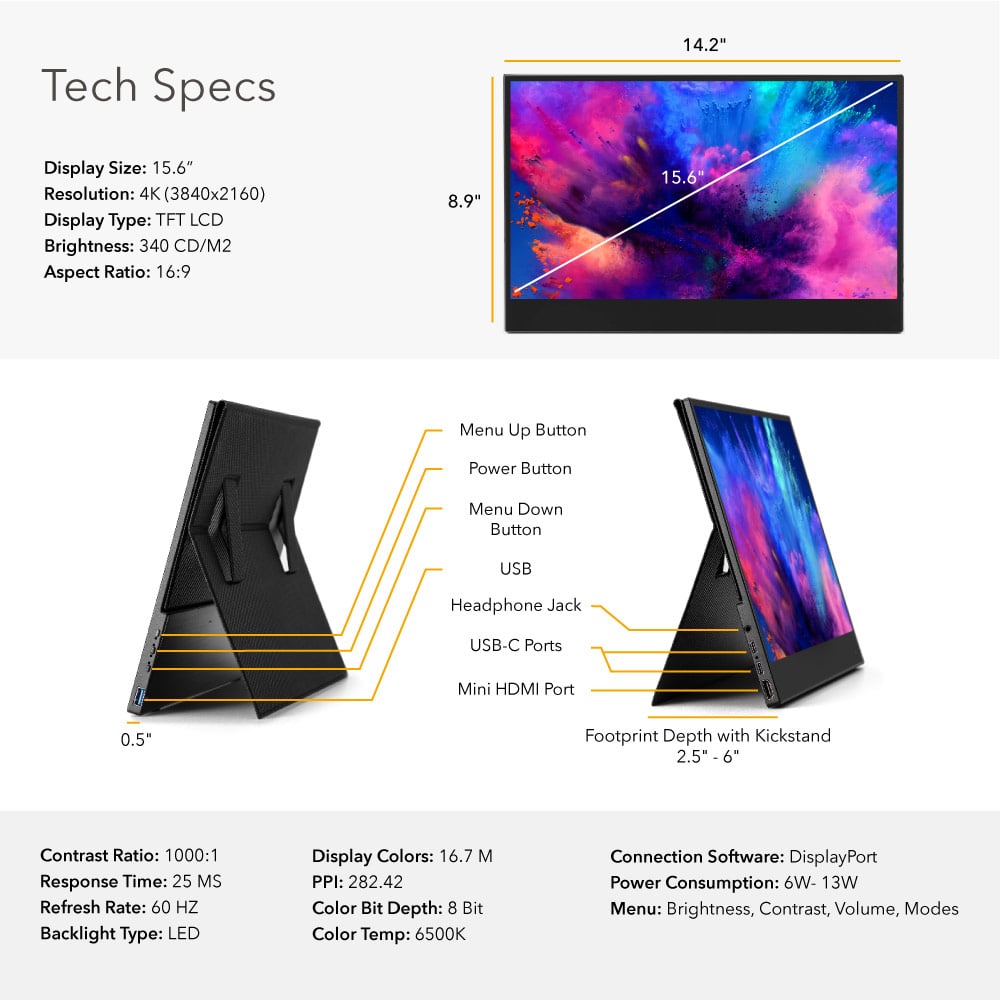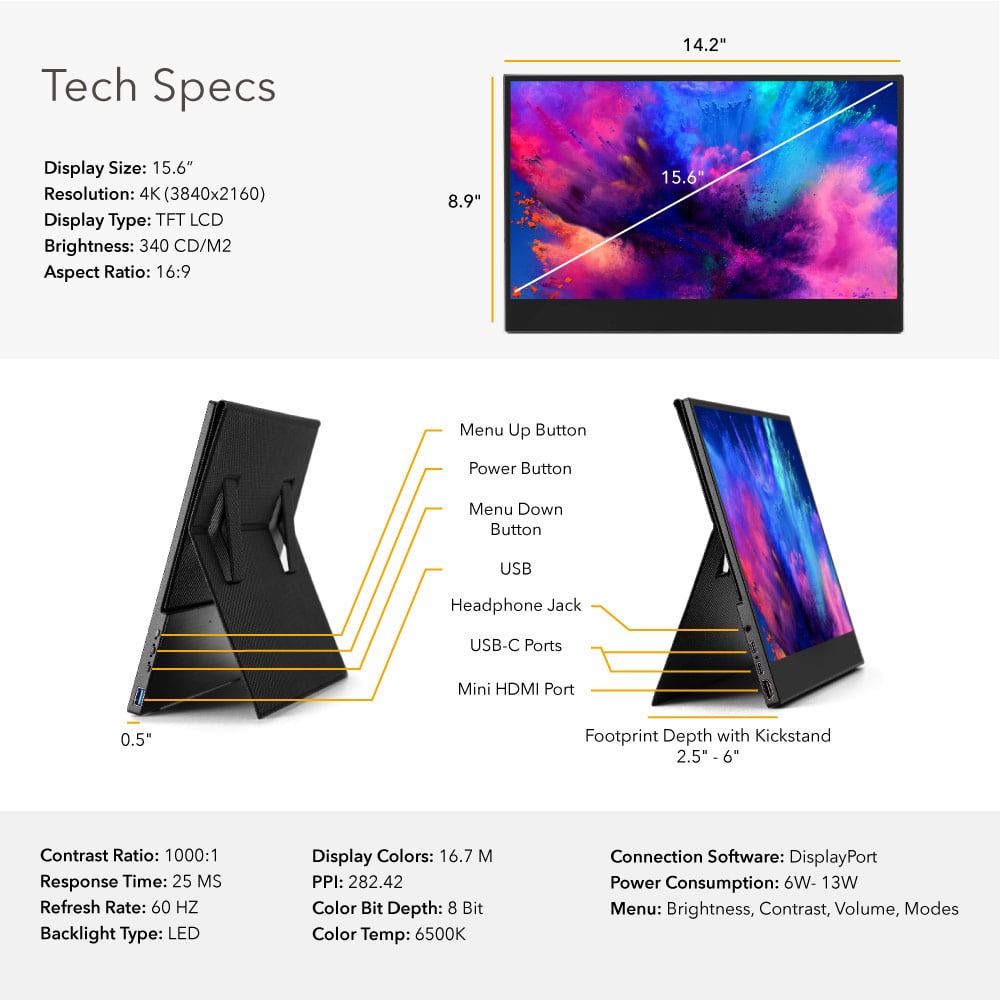 Technical Specifications & Compatibility

Dimensions & Weight

Dimensions: 14.5" x 8.9" x 0.4"
Weight: 2.9 lbs

Screen Specs

Screen Size: 15.6"
Panel Type: IPS
Display Type: LED
Resolution: 3840x2160
Brightness: 340 cd/m2
Response Time: 25 ms
Refresh Rate: 60 Hz
Aspect Ratio: 16:9
Contrast Ratio: 1000:1
Power Consumption: 6W

Compatibility

Operating System: Windows, & Chrome.
Compatible with Microsoft Pen Protocol (MPP) supported styluses.
Ports Required: Thunderbolt USB-C or USB-A and HDMI (may require 2 cords)
Supplemental power may be needed to power monitor.
Device Size: Any
Download: Not Required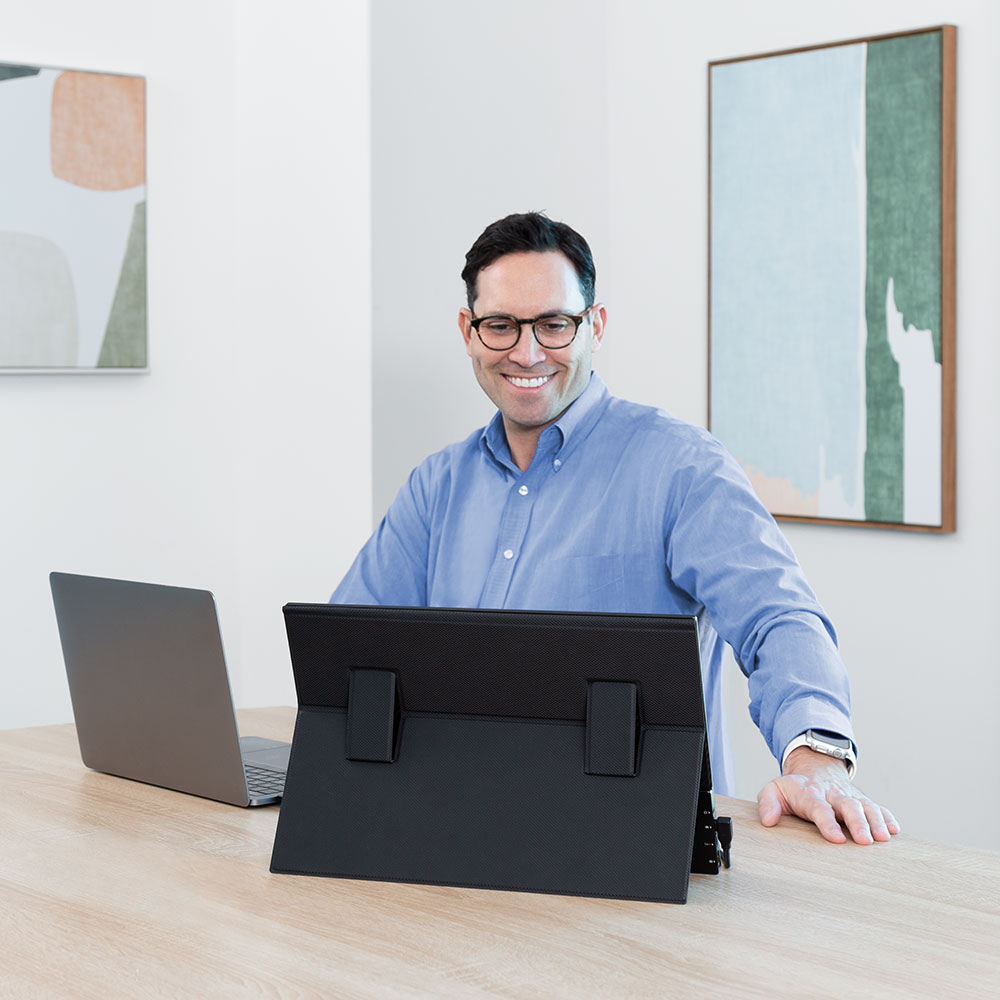 Your Most Productive Self
Harness unstoppable productivity at home and on the go by instantly adding an extra freestanding monitor for your laptop. Work at a desk, on the couch, or from a coffee shop while enjoying the ample working room of two screens. Eliminate the need to switch between tabs, and move seamlessly through your most productive day yet.
Stunning 4K Display
Enjoy user-friendly, responsive touchscreen technology alongside stunning picture quality with this portable monitor. Captivating color and crisp 4k HDR streaming capacity create an immersive viewing experience. Adjustable settings enable you to move freely from one workspace to another, no matter the lighting, while still preserving the excellent display. The accurate touchscreen monitor offers quick and easy navigation.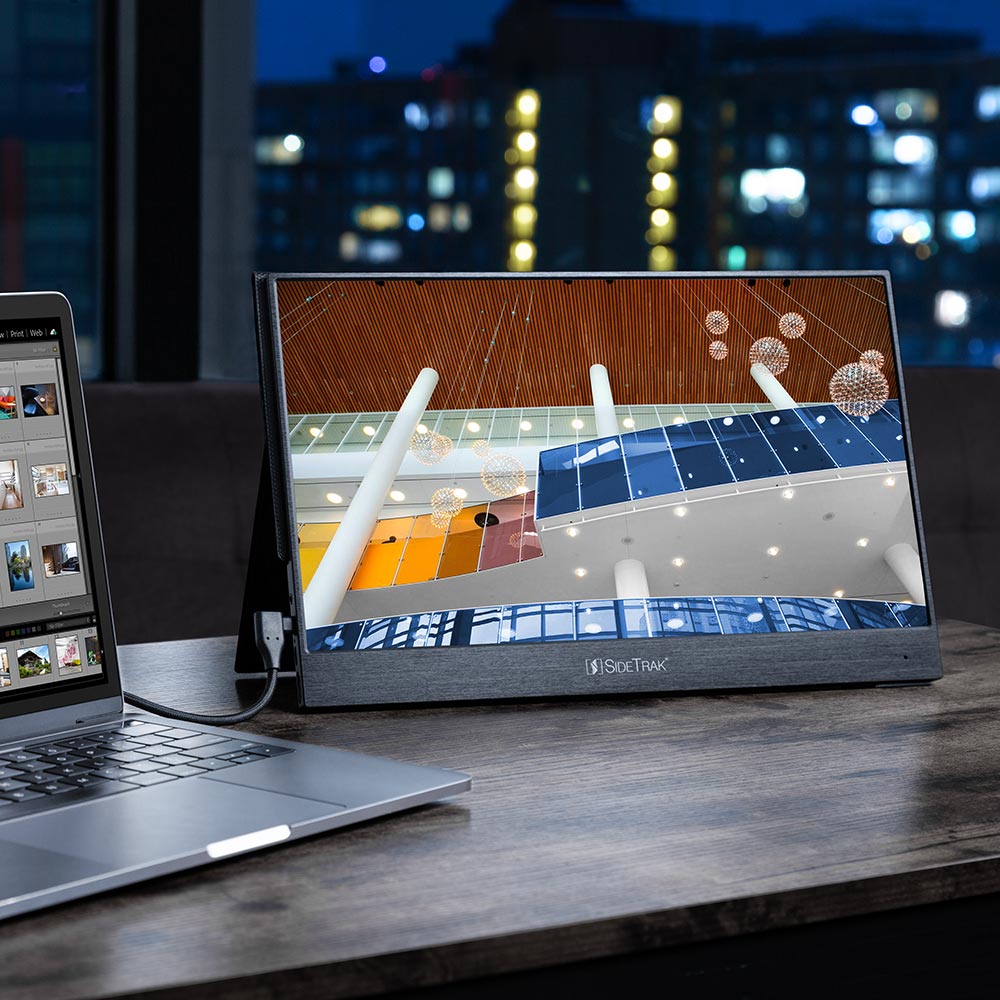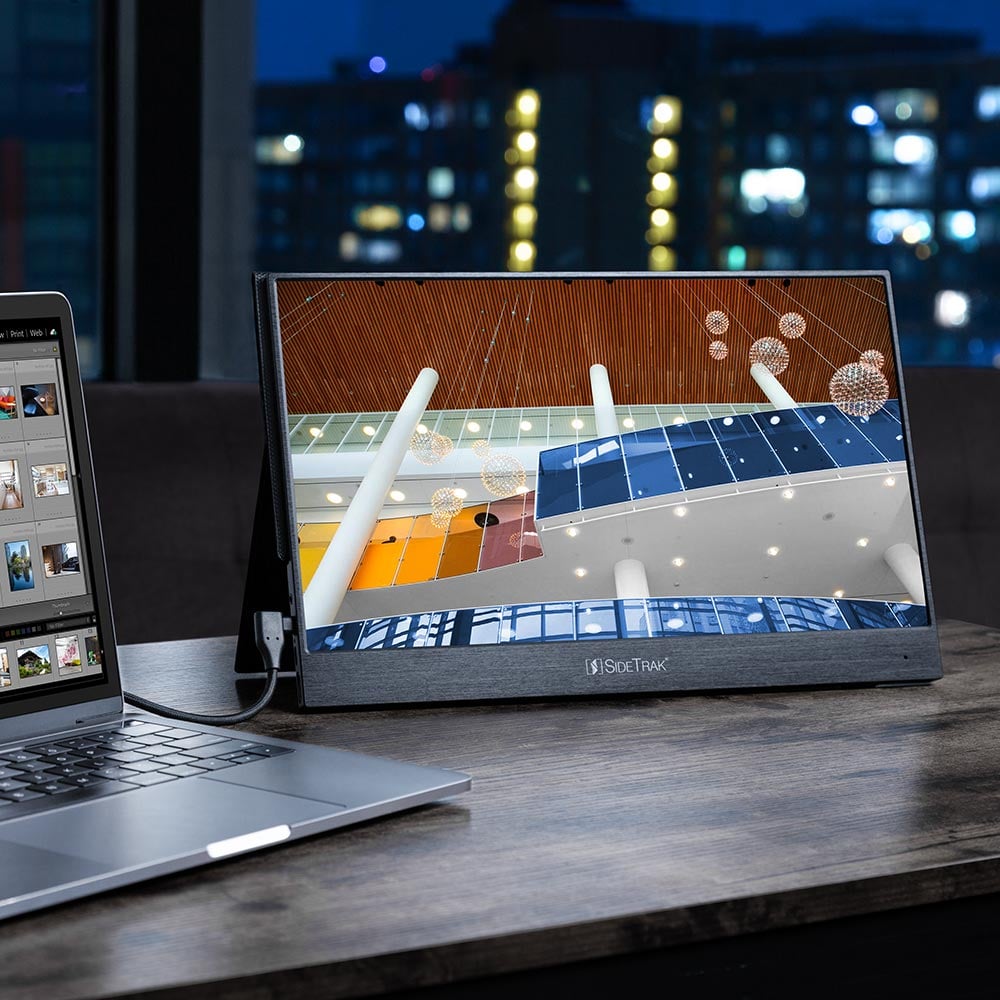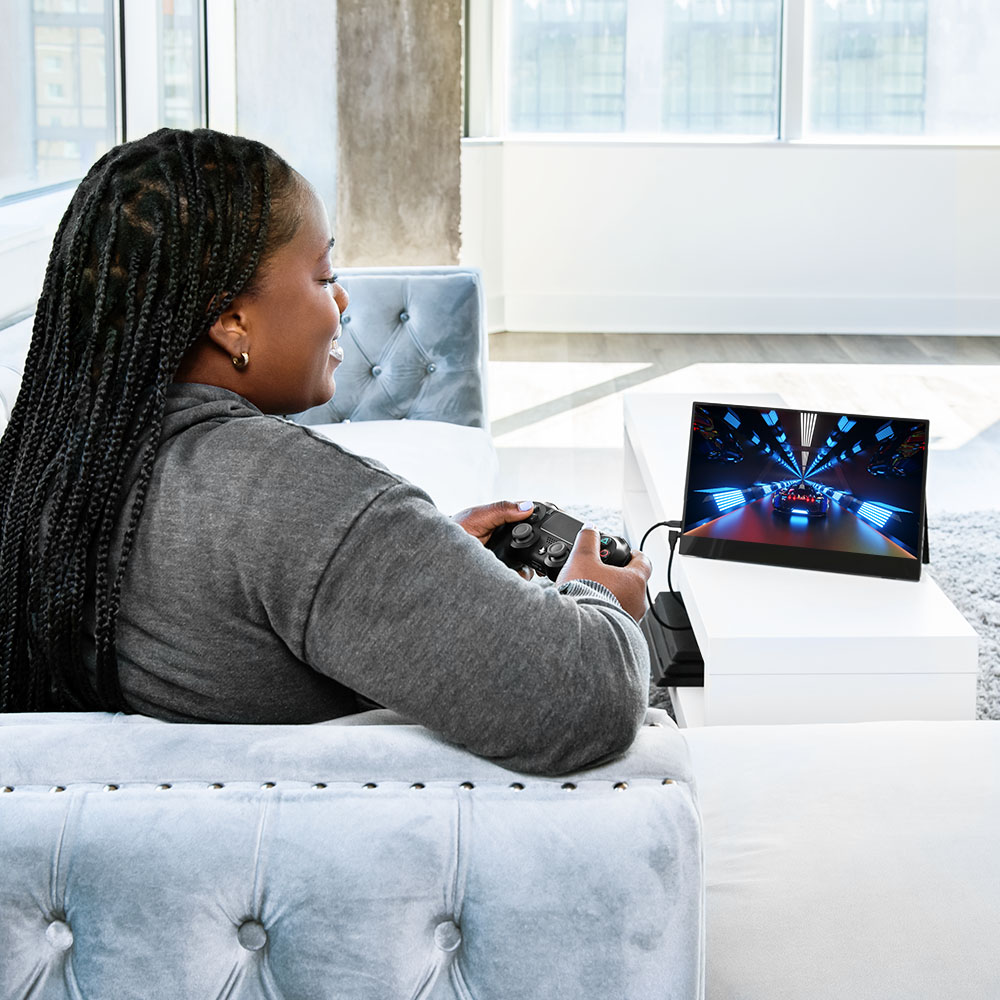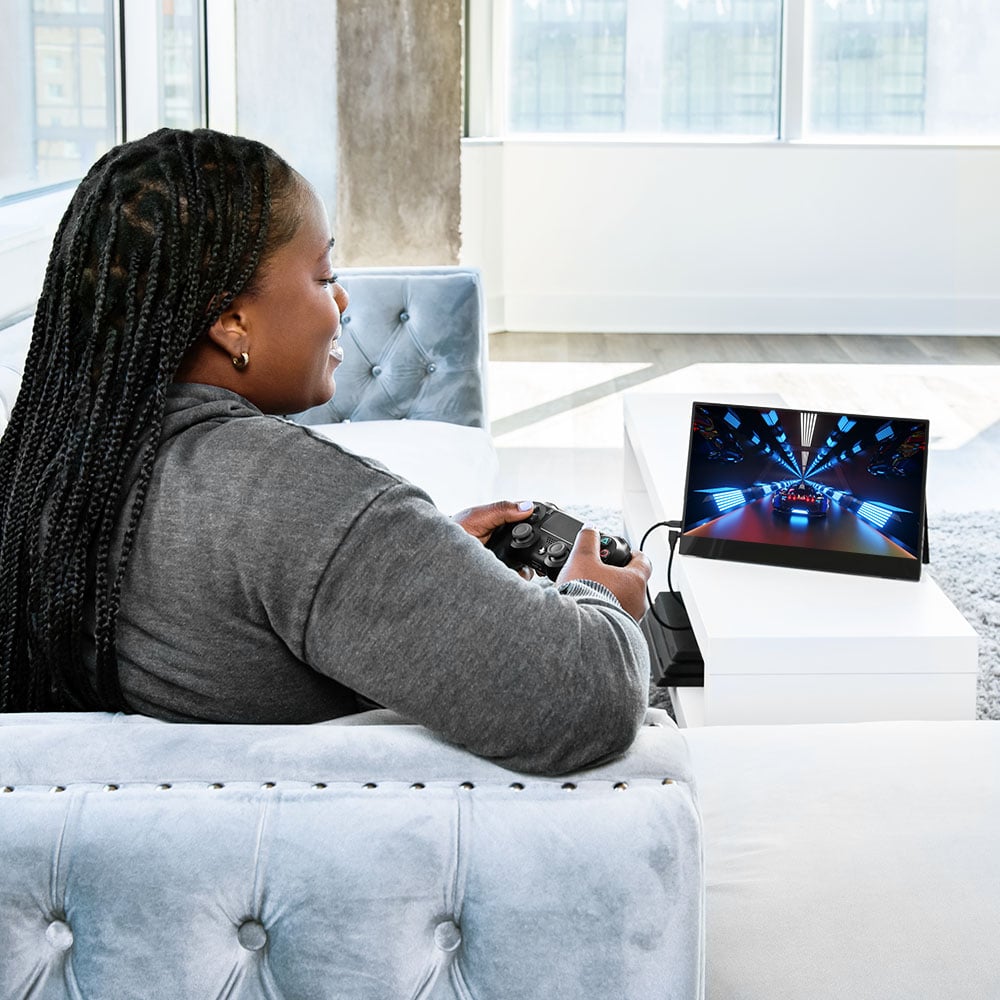 Made to Play
It's not just about productivity when your second screen also delivers fun. Double the value of your investment and enjoy this monitor when the workday is done. The high-quality HDR screen provides excellent optics for daily meetings or nighttime gaming. Touchscreen capability allows for maximum flexibility wherever and however you want to work or play.
Easily Collaborate
Collaborate easily and efficiently by sharing your screen without the need for additional programs or online conference calls. Even awkward over-the-shoulder hovering is eliminated thanks to the extra real estate of this detached second screen. Turn the monitor around for easy sharing, amp up the teamwork, and finish your projects faster.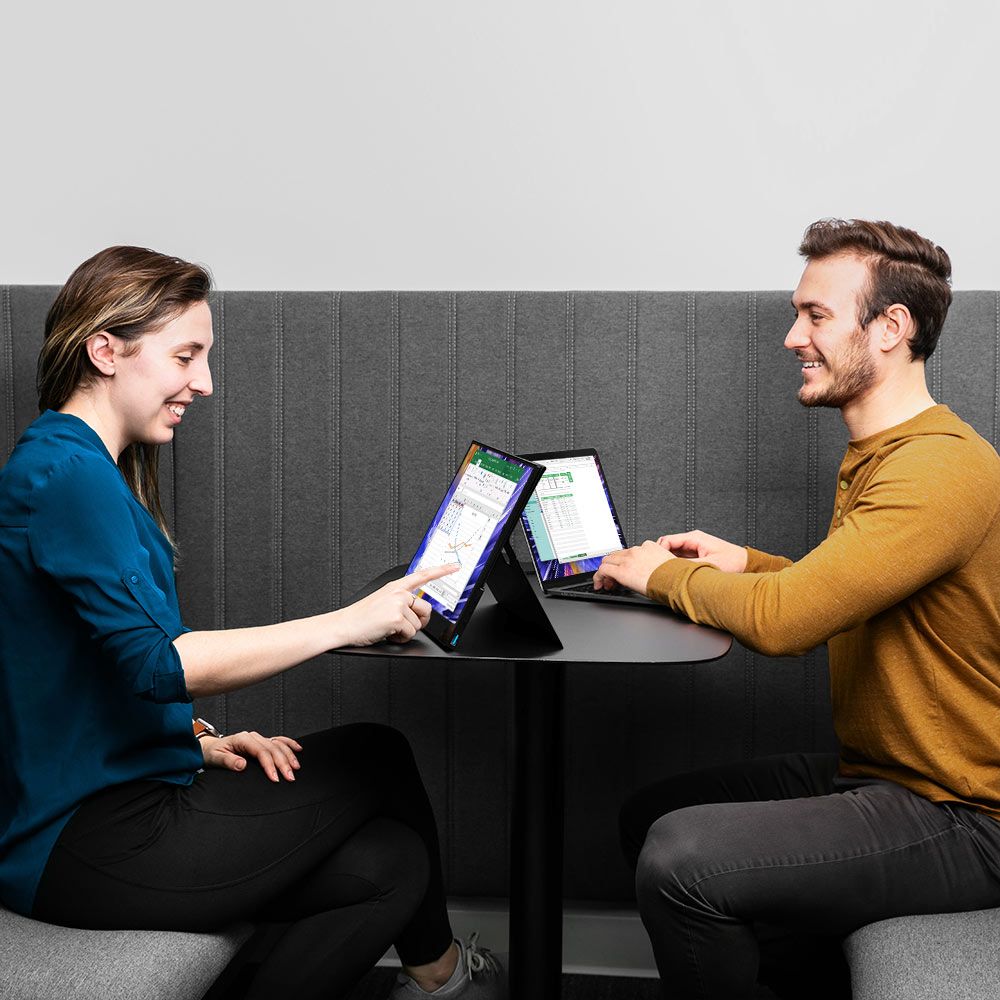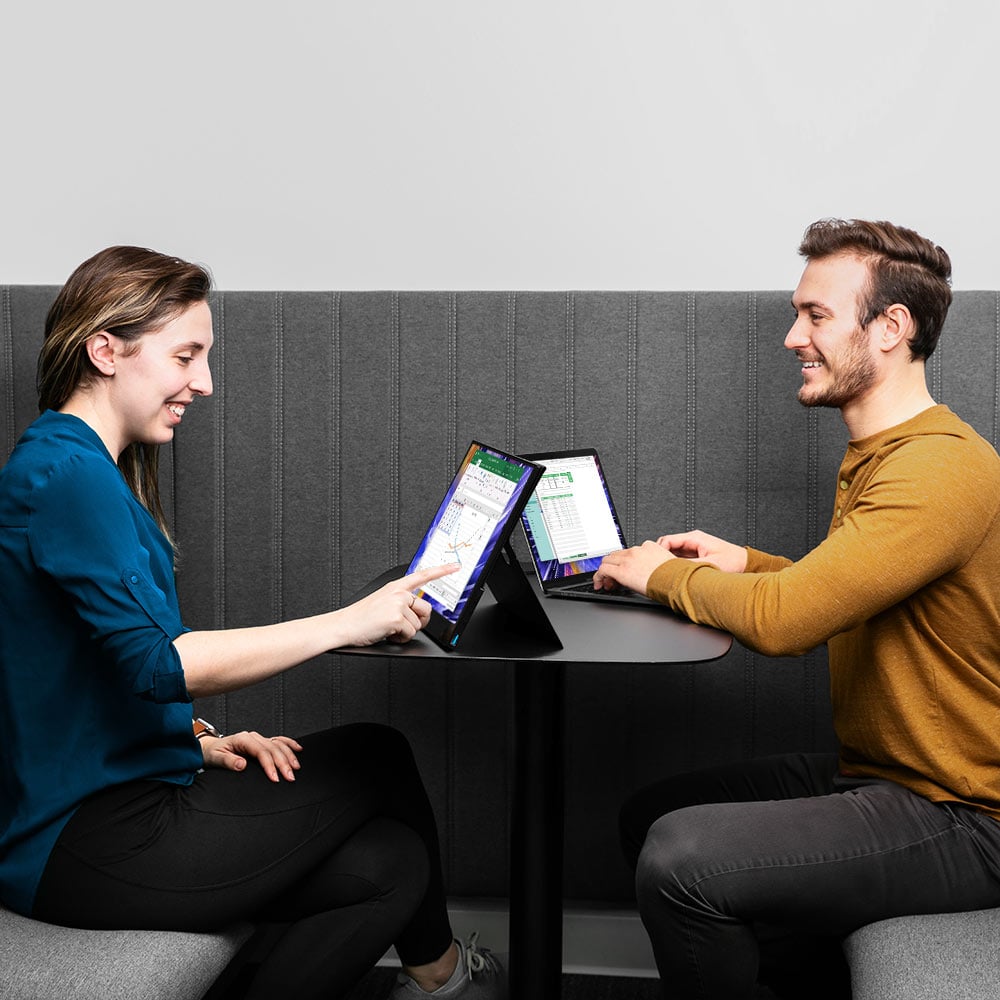 COMPARE PRODUCTS
$479.99
Captivating 4k touchscreen monitor with next-level tech specs, picture quality, and features. 
15.6" 4k touchscreen LED display with cover

 

1000:1 contrast ratio and 3840 x 2160 resolution

 

Accurate & responsive 10-point touch G+FF technology

 

Amazing streaming experience with HDR & FreeSync

 

Stunning wide color gamut, 8-bit color display, & DCR

 

Adjustable brightness, blue light filter, volume, and display settings

 

Slim, lightweight & durable design

 
CURRENT SELECTION
$319.99 - $349.99
Game-changing portable monitor with a patented 360º swivel design that doubles your screen space.
Full HD portable monitor with crisp 1920 x 1080 resolution
Exclusive 360° swivel hinge and 270° screen rotation
Attaches seamlessly to any laptop with a hidden magnetic plate
Freestanding functionality with built-in kickstand and autorotation
Durable, lightweight frame folds flat for effortless travel
Compatible with Windows, Chrome, and Mac
See Full Details
$249.99
Sleek, freestanding portable monitor that is designed to boost productivity and efficiency from anywhere.
15.8" Full HD anti-glare LED display

 

Amazing streaming experience with HDR & FreeSync

Stunning wide color gamut and 8-bit color display

 

Slim, lightweight & durable design

 

Ultra-thin bezels & sleek, matte finish

 

Adjustable brightness, volume, and display settings

 
See Full Details