4K Docking Station 13-in-1
PORTABLE POWERHOUSE
SideTrak Laptop Docking Station maximizes connection capability with an astounding 13-port capacity. This USB-C docking station delivers data and power to your 4k monitor and virtually any peripheral device. Lightweight and portable, the non-skid Docking Station travels with you and fits neatly under your laptop to keep your desk tidy.
PRODUCT OVERVIEW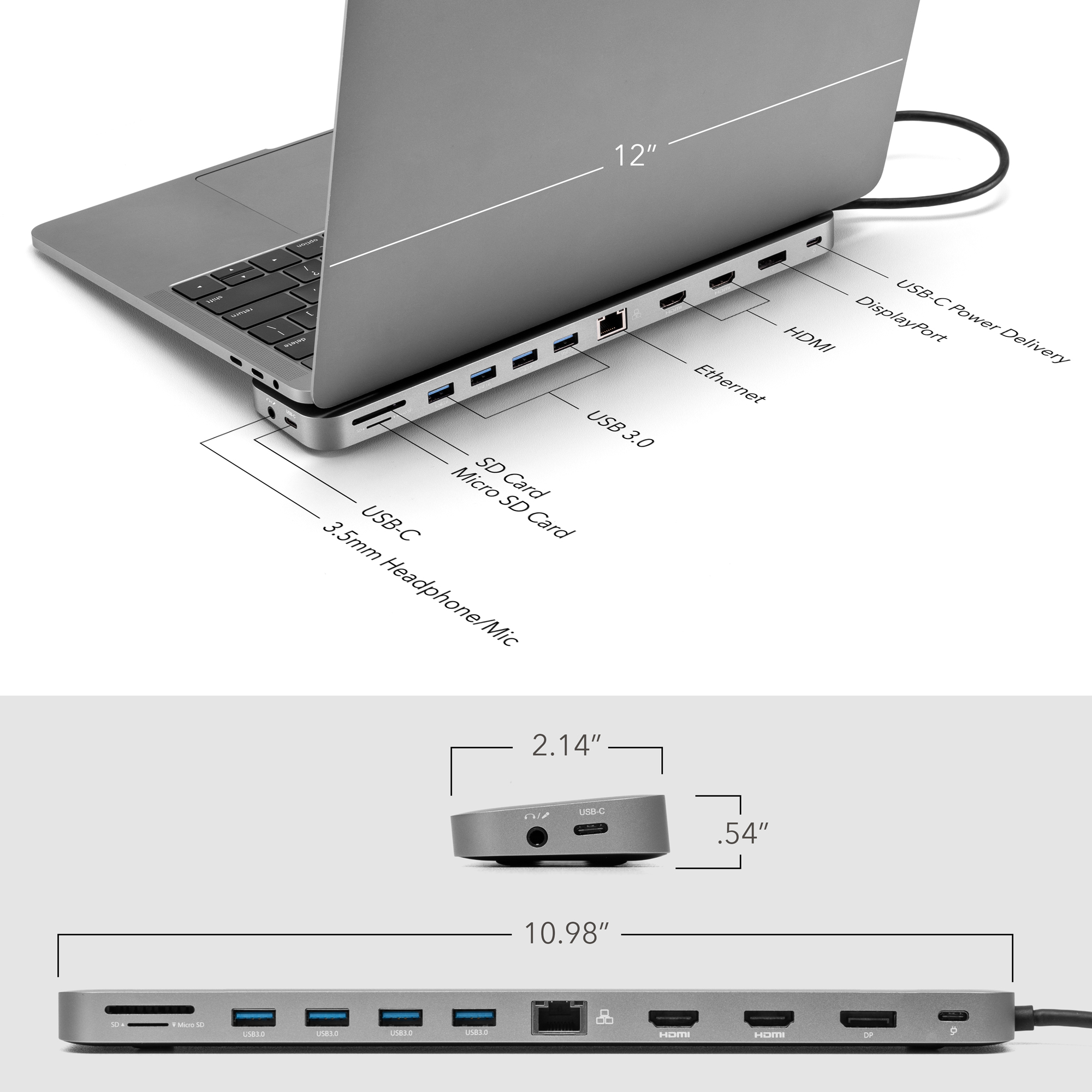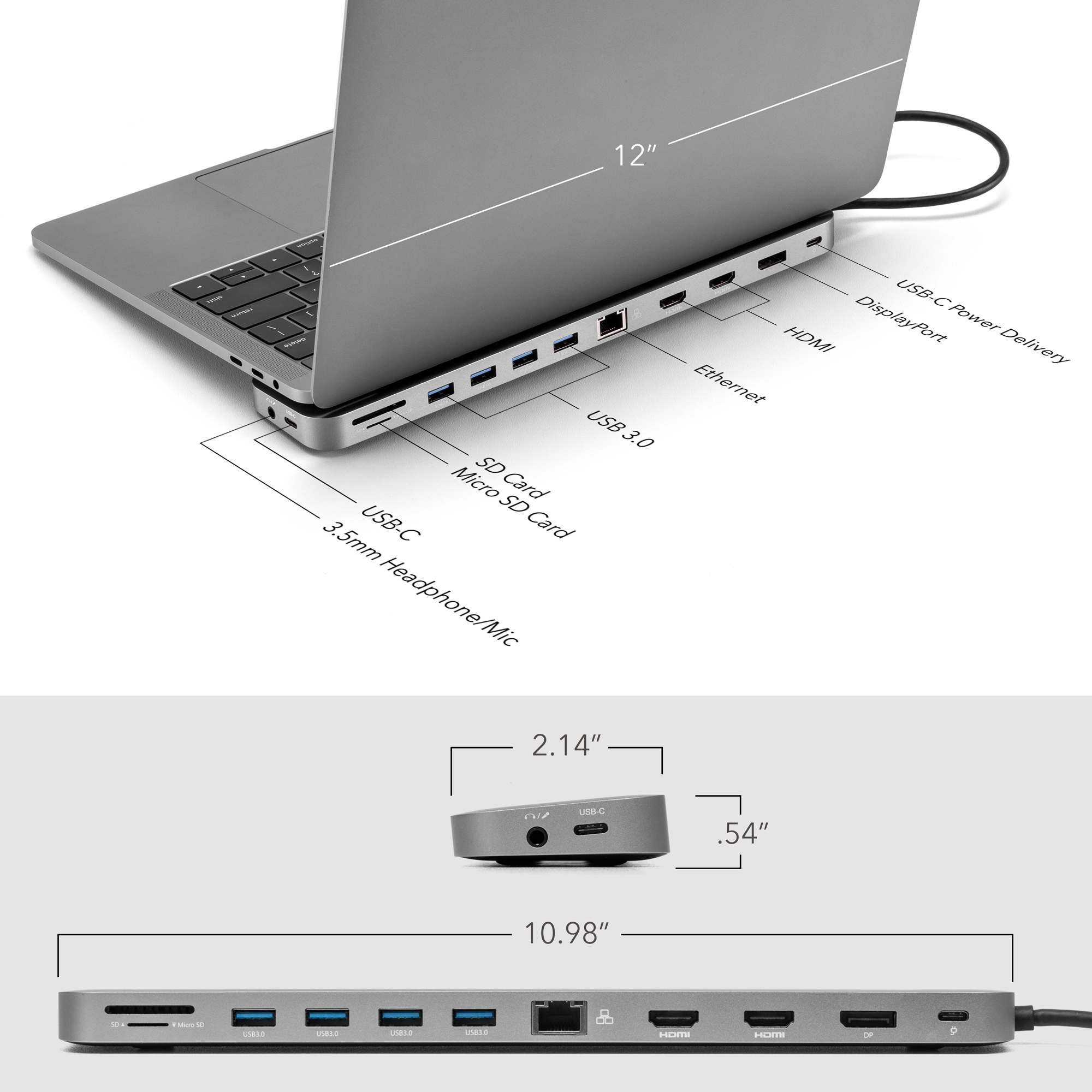 Technical Specifications & Compatibility

Dimensions & Weight

Dimensions: 10.98" x 2.14" x 0.54"
Weight: .35 lbs

Specifications

Cord Length: 7.88in
Transfer Speed: 5 Gb/s
Support 4k: Yes
HDMI Resolution: 4k 60Hz; 4k 30Hz
HDMI Connections: 2
USB-A Version: 3.0
USB-A Connections: 3
USB-C Version: 3.0
USB-C Connections: 1
No Load Voltage: 5V

Compatibility

Operating System: Windows, Chrome, & Mac
Ports Required: Thunderbolt USB-C
Device Size: Any
Download: Not Required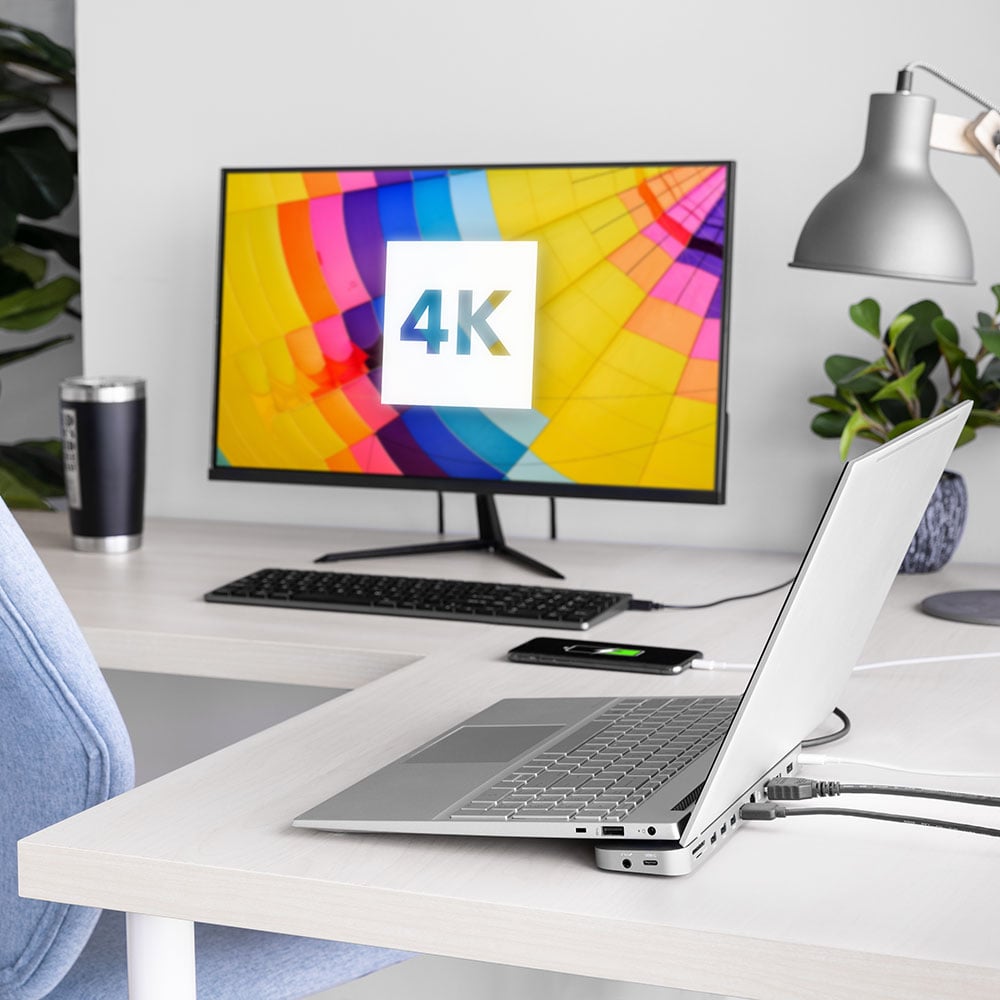 Ultra-Capable and Compatible
The SideTrak Docking Station boasts a top-of-the-line 13-port capacity, offering easy connection to your monitor, peripheral devices, Ethernet, and audio.
Plug In, Press Play
The USB-C to laptop connection gets you working and playing in an instant. This extremely lightweight and portable Docking Station brings multi-device convenience to any location.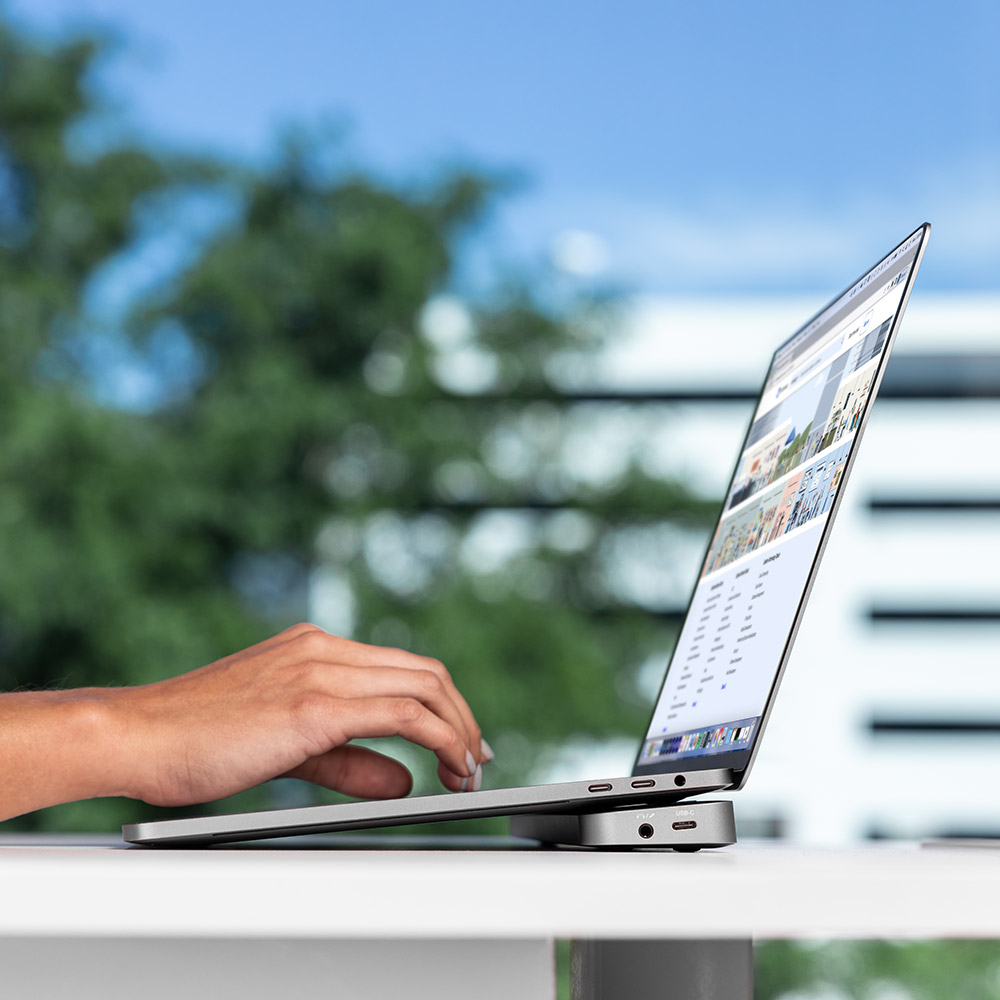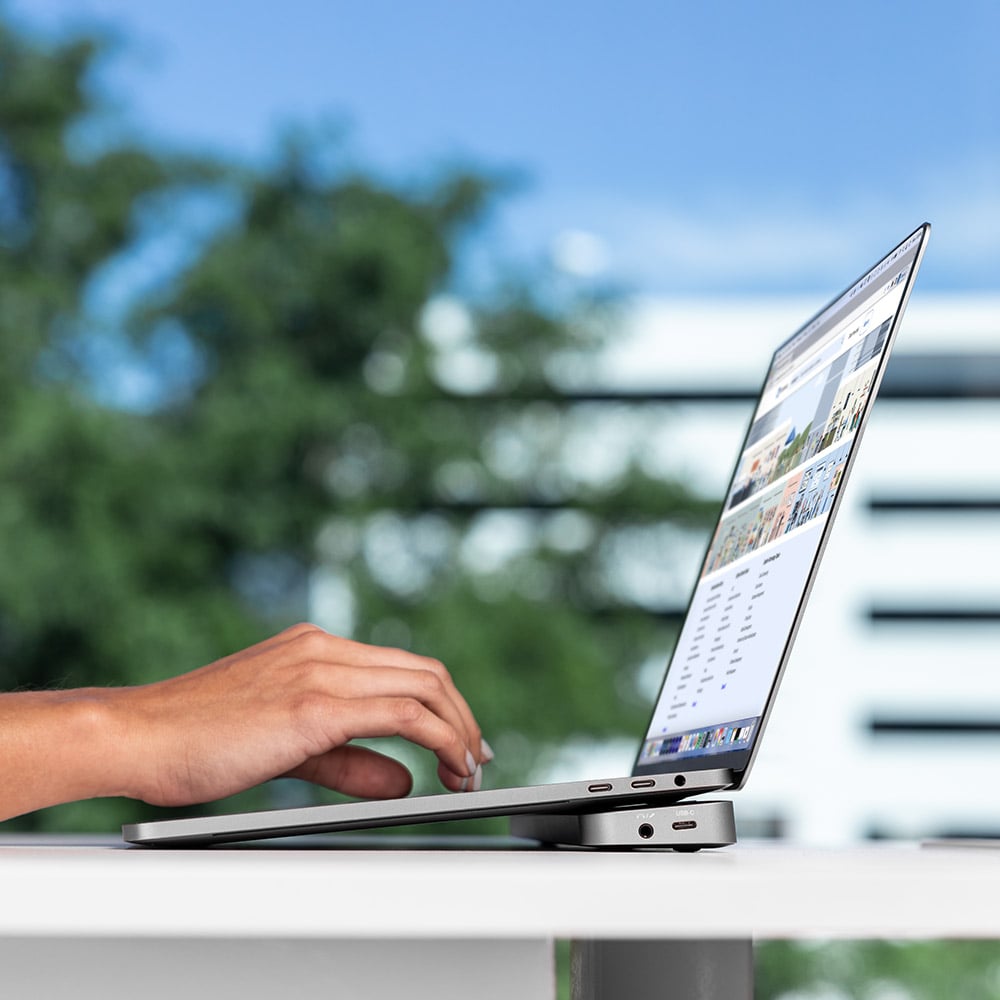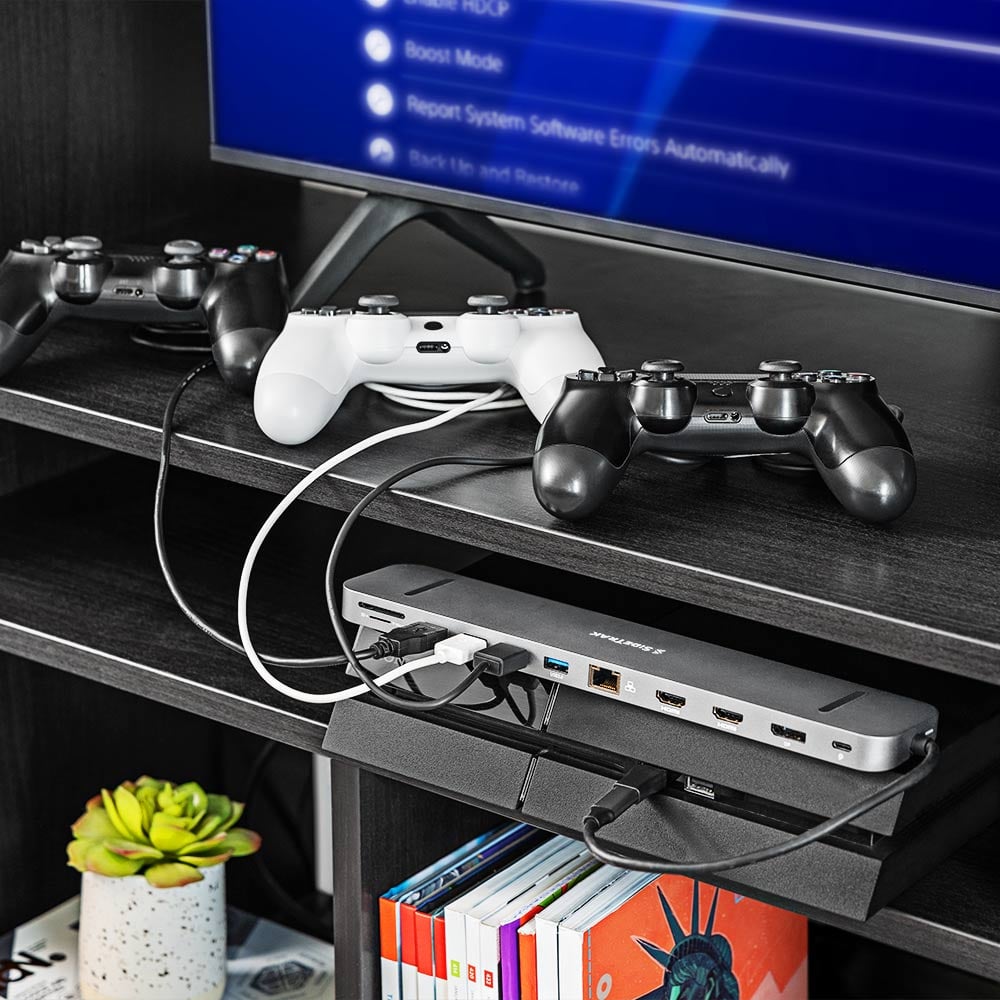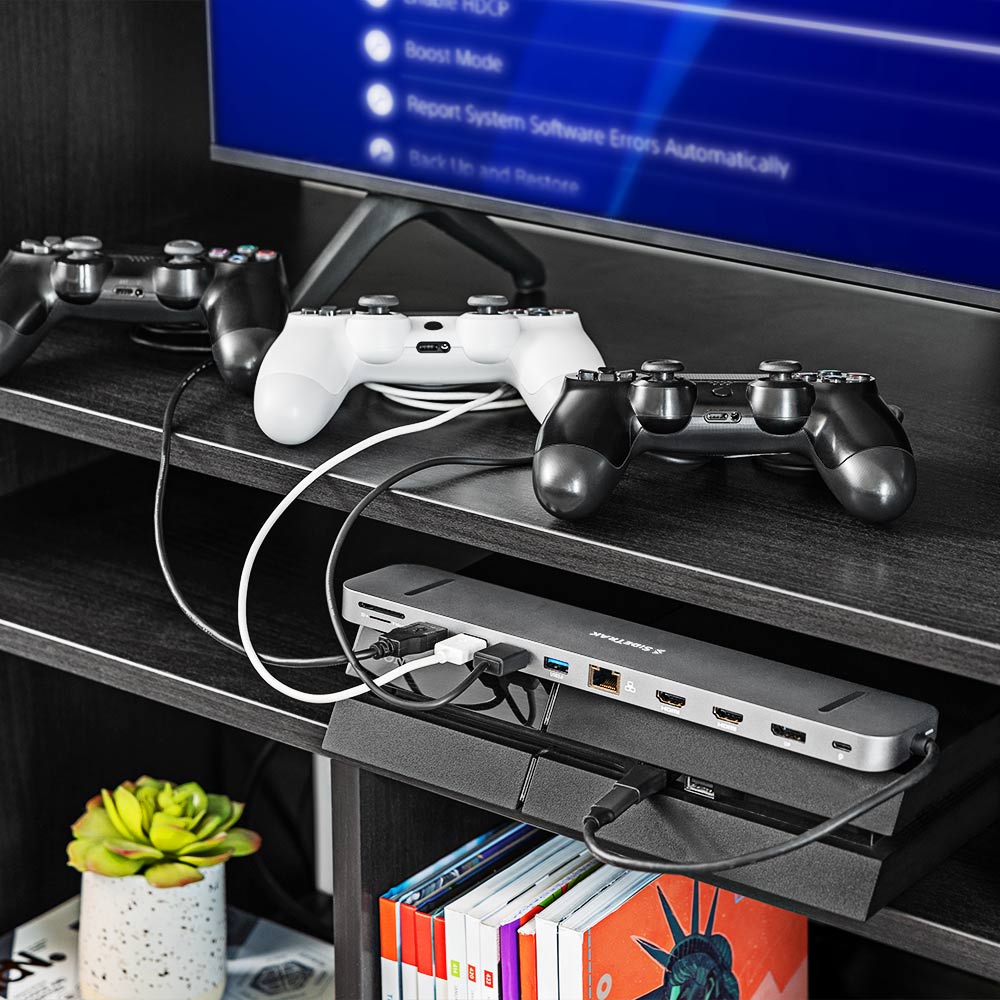 Gaming on the Go
Transfer data at a quick 5 Gb/s, and keep your devices charged while you play. The 4k, 60Hz DisplayPort maintains the quality graphics of all your favorite games.
Create in Any Space
Connect an SD card, Wacom tablet, external monitor, battery charger, or any other tool you need to fulfill your creative endeavors. With 13 ports to choose from, this docking station has everything you need to create in any space.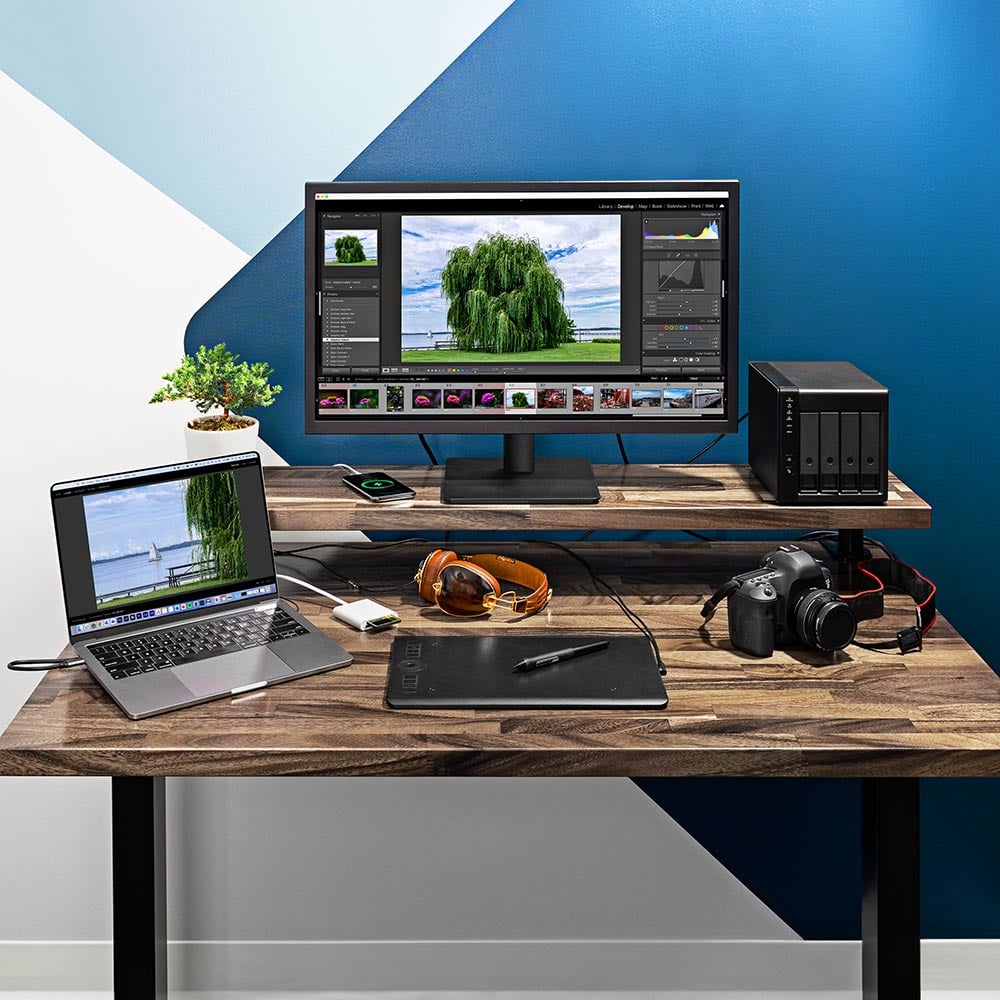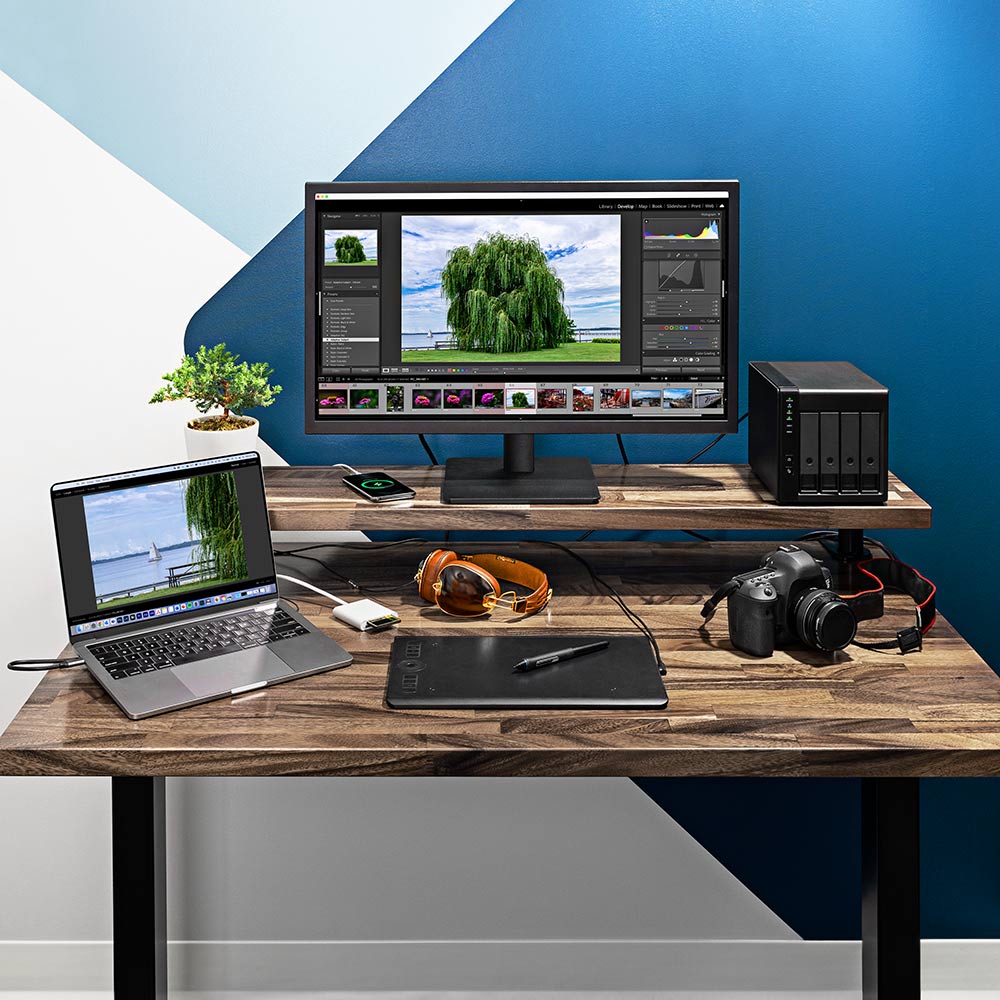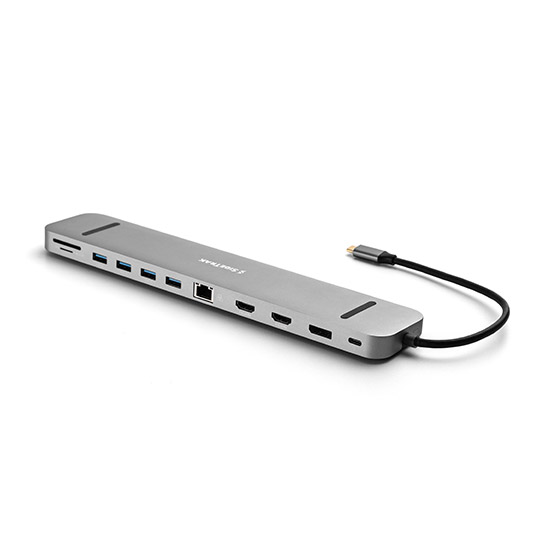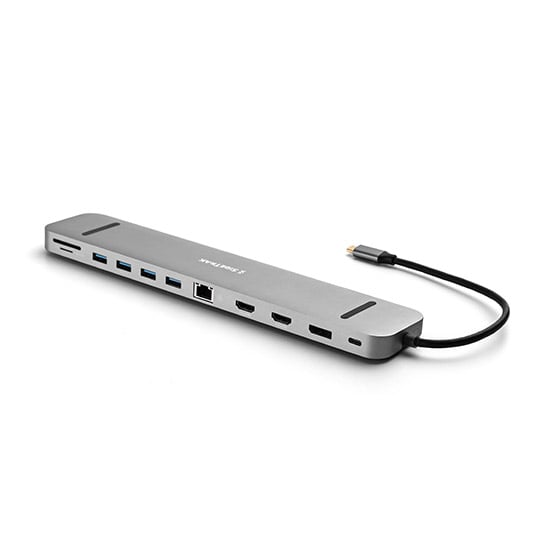 Non-skid rubber feet and rubber surface pads
Quickly connect with a USB-C port
13-ports that are easily accessable from the back of your laptop
Quality Build Made for Quick Work
The slim and lightweight SideTrak Docking Station is crafted with a durable aluminum body and features non-skid rubber feet and rubber surface pads. It fits neatly under your laptop while keeping each of its 13 ports easily accessible across its back. Quickly connect to your laptop's USB-C port and instantly increase your ability to power and charge all your devices.
COMPARE PRODUCTS
$149.99
13-port powerhouse connecting your laptop, monitor, and all your peripherals. Docking Station fits conveniently under your laptop and offers one USB-C port, four USB-A 3.0 ports, two HDMI inputs, one DisplayPort™, one 1000M Ethernet slot, and one 3.5 mm audio jack.  
USB-C laptop docking station for 4k monitors and peripherals 

 

13-port hub with USB-C, USB-A, HDMI, DisplayPort, Ethernet, Audio Jack

 

5 Gb/s transfer speed via USB-C to USB-C, USB-C to USB-A, or HDMI

 

With pass-through power, it can deliver both power and data and weighs only 0.35 lbs and is 0.54" thick, making it easy to take everywhere

 

Aluminum body with rubber feet on top and bottom surfaces 

 

Compatible with both SST Mac and MST Windows
CURRENT SELECTION
$319.99 - $349.99
Game-changing portable monitor with a patented 360º swivel design that doubles your screen space.
Full HD portable monitor with crisp 1920 x 1080 resolution
Exclusive 360° swivel hinge and 270° screen rotation
Attaches seamlessly to any laptop with a hidden magnetic plate
Freestanding functionality with built-in kickstand and autorotation
Durable, lightweight frame folds flat for effortless travel
Compatible with Windows, Chrome, and Mac
See Full Details
$249.99
Sleek, freestanding portable monitor that is designed to boost productivity and efficiency from anywhere.
15.8" Full HD anti-glare LED display

 

Amazing streaming experience with HDR & FreeSync

Stunning wide color gamut and 8-bit color display

 

Slim, lightweight & durable design

 

Ultra-thin bezels & sleek, matte finish

 

Adjustable brightness, volume, and display settings

 
See Full Details