Solo Pro Touch FHD 15.8"
PRODUCT OVERVIEW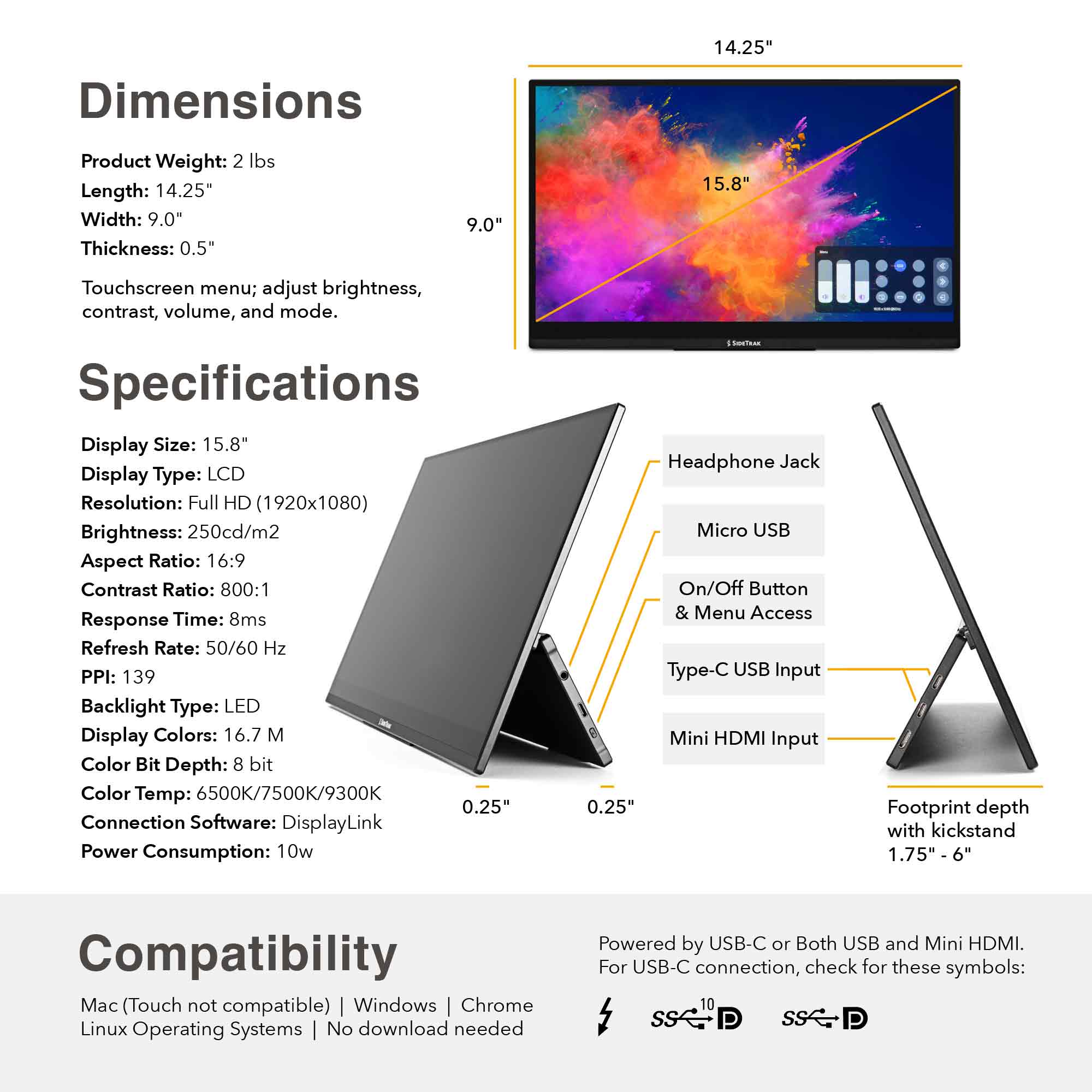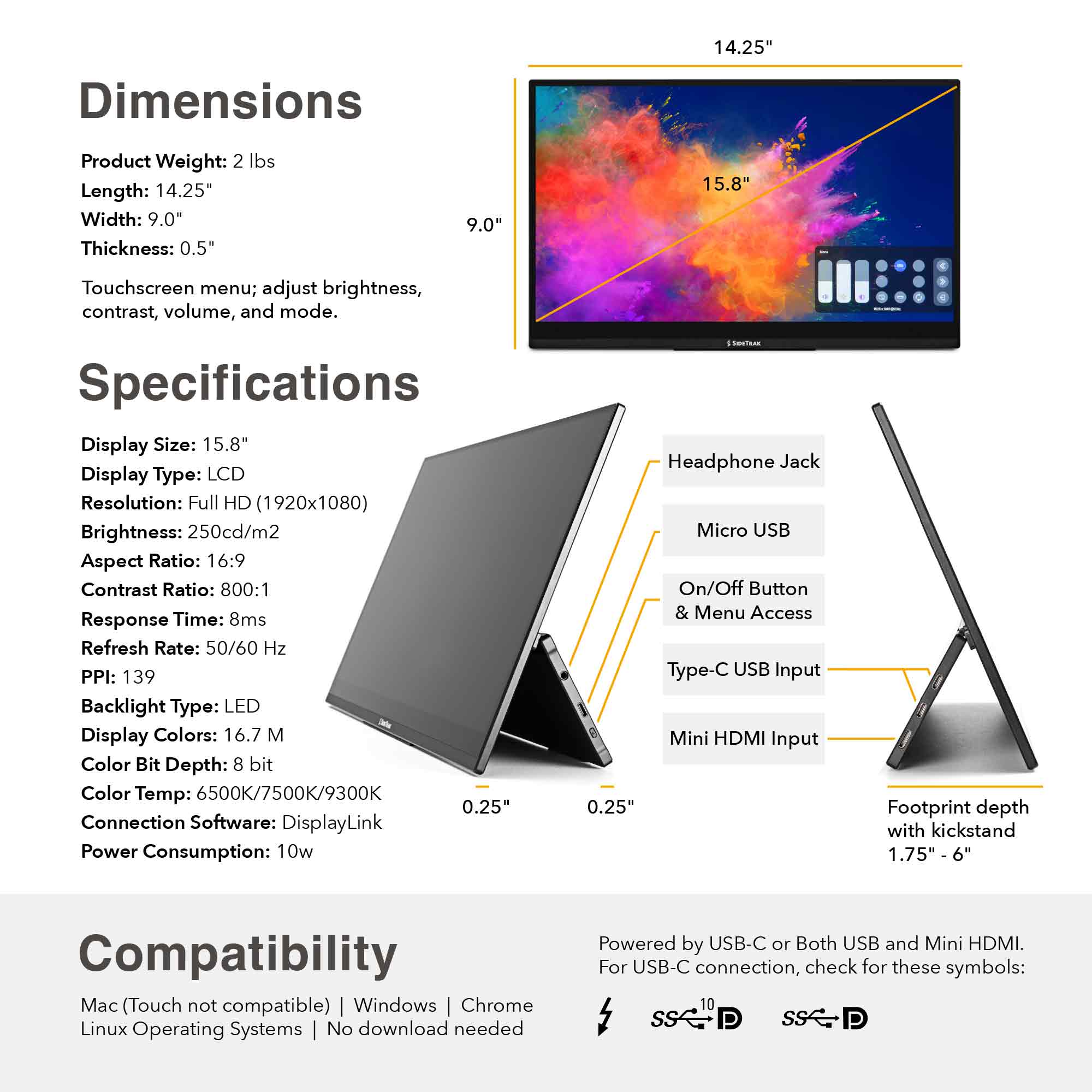 Technical Specifications & Compatibility

Dimensions & Weight

Dimensions: 14.2" x 8.9" x 0.5"
Weight: 2.5 lbs

Screen Specs

Screen Size: 15.8"
Panel Type: IPS
Display Type: LCD
Resolution: 1920x1080
Brightness: 250 cd/m2
Response Time: 8 ms
Refresh Rate: 60 Hz
Aspect Ratio: 16:9
Contrast Ratio: 1000:1
Power Consumption: 8W

Compatibility

Operating System: Windows, & Chrome
Ports Required: Thunderbolt USB-C or USB-A and HDMI (may require 2 cords)
Compatible with Microsoft Pen Protocol (MPP) supported styluses.
Device Size: Any
Download: Not Required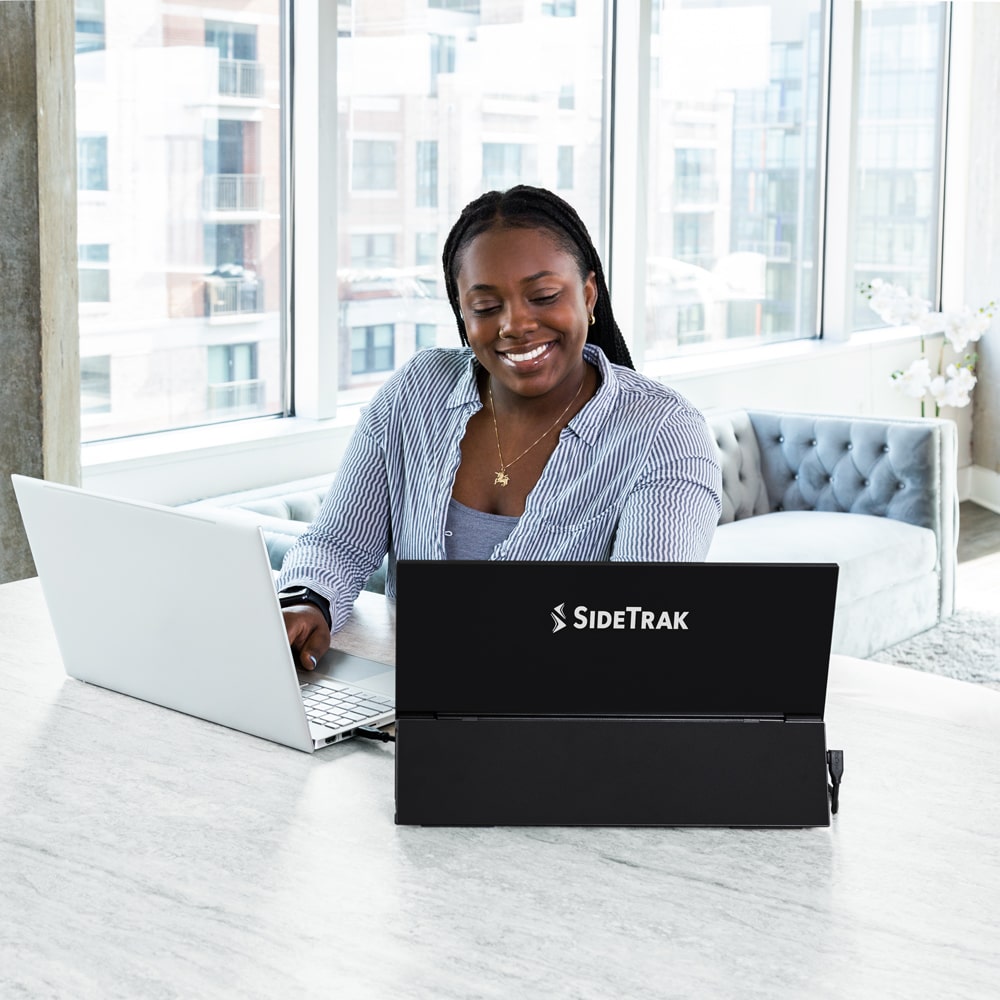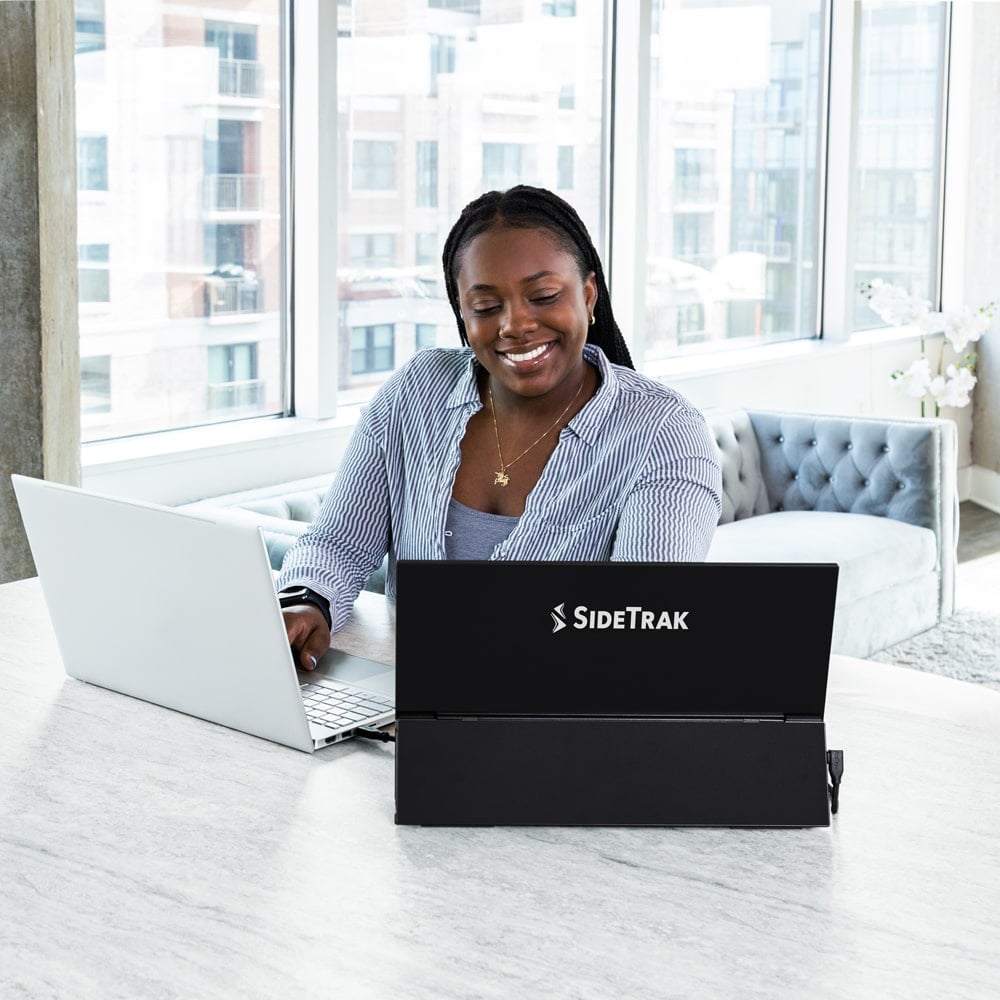 Unleash Endless Productivity
Harness unstoppable productivity at home and on the go by utilizing an extra freestanding monitor for your laptop. This user-friendly touchscreen allows you to navigate through tabs, docs, and fields with a simple tap of the finger. Moving through your to-do list just got a whole lot easier.
Accomplish Anything, From Anywhere
With this anti-glare IPS monitor, you can take your monitor into any setting without sacrificing display quality. Don't worry about viewing angles, light reflection, or greasy fingerprints detracting from any images. Rest assured the portability and quality of this monitor allow you to work and play anywhere you like!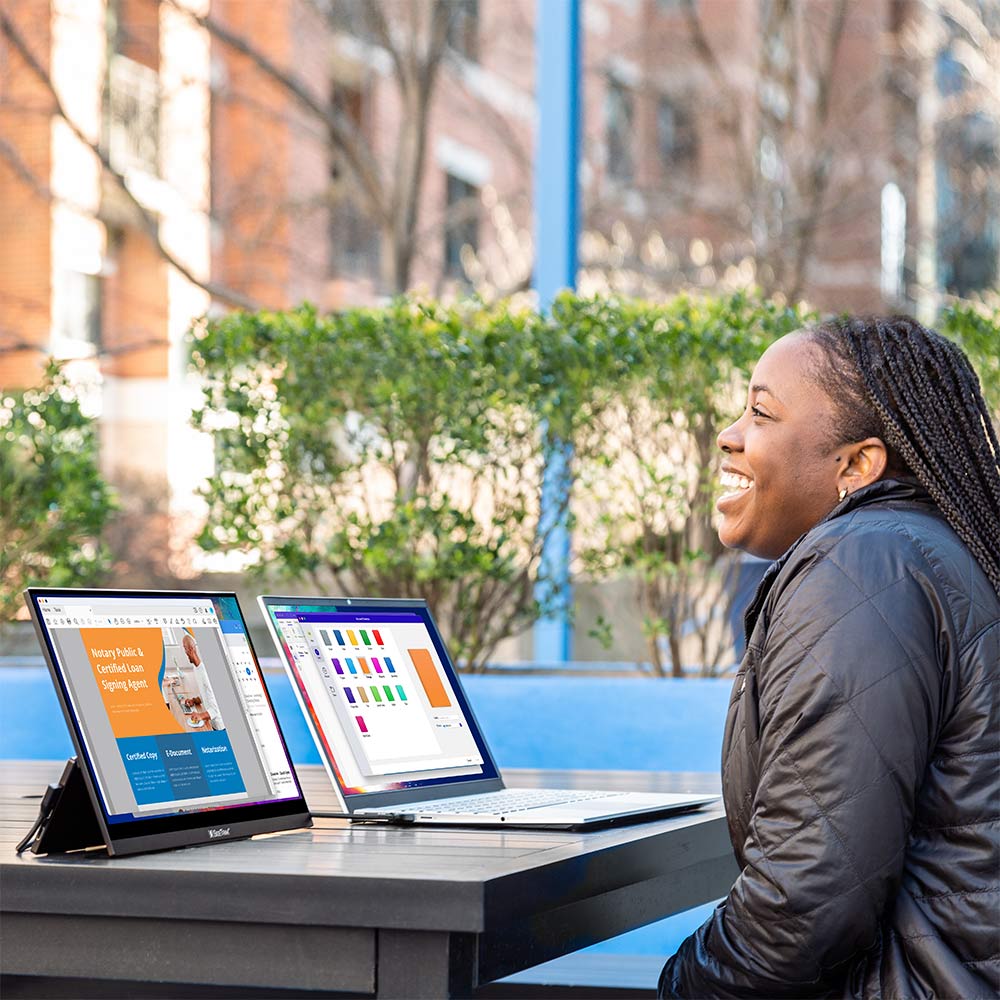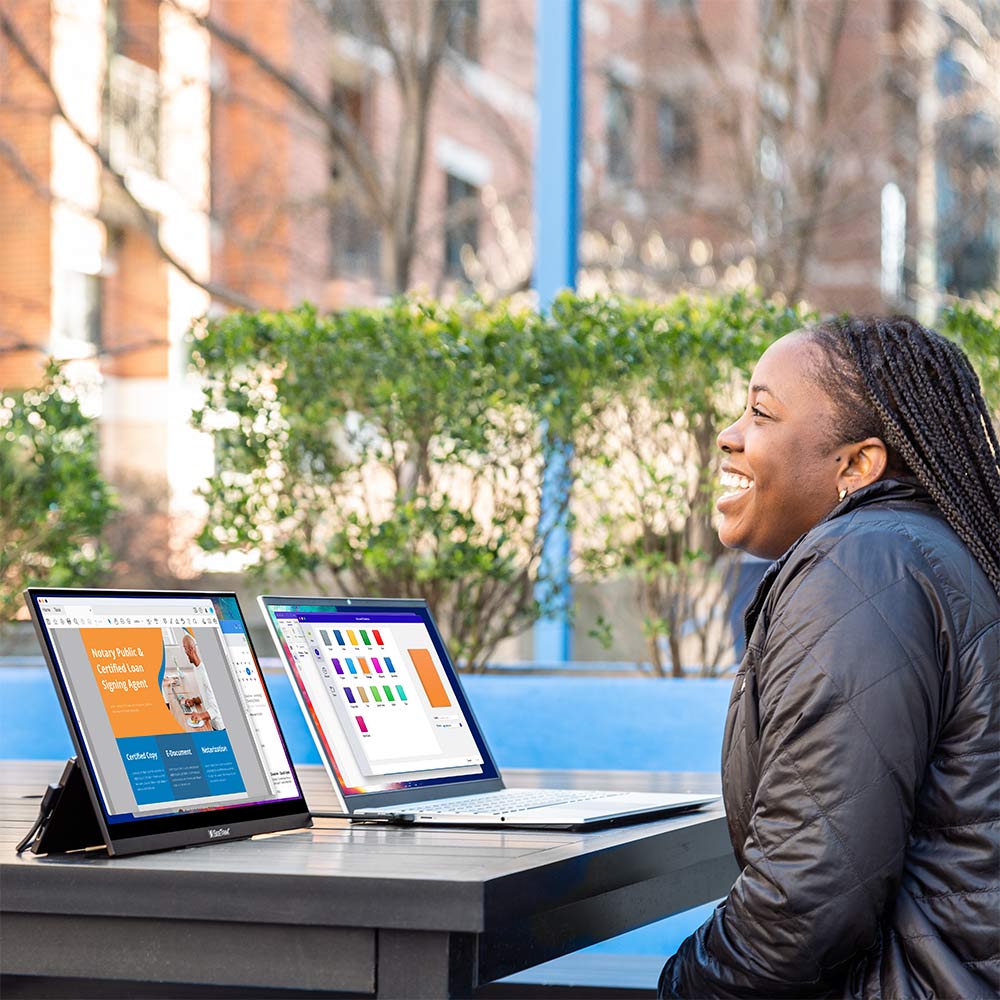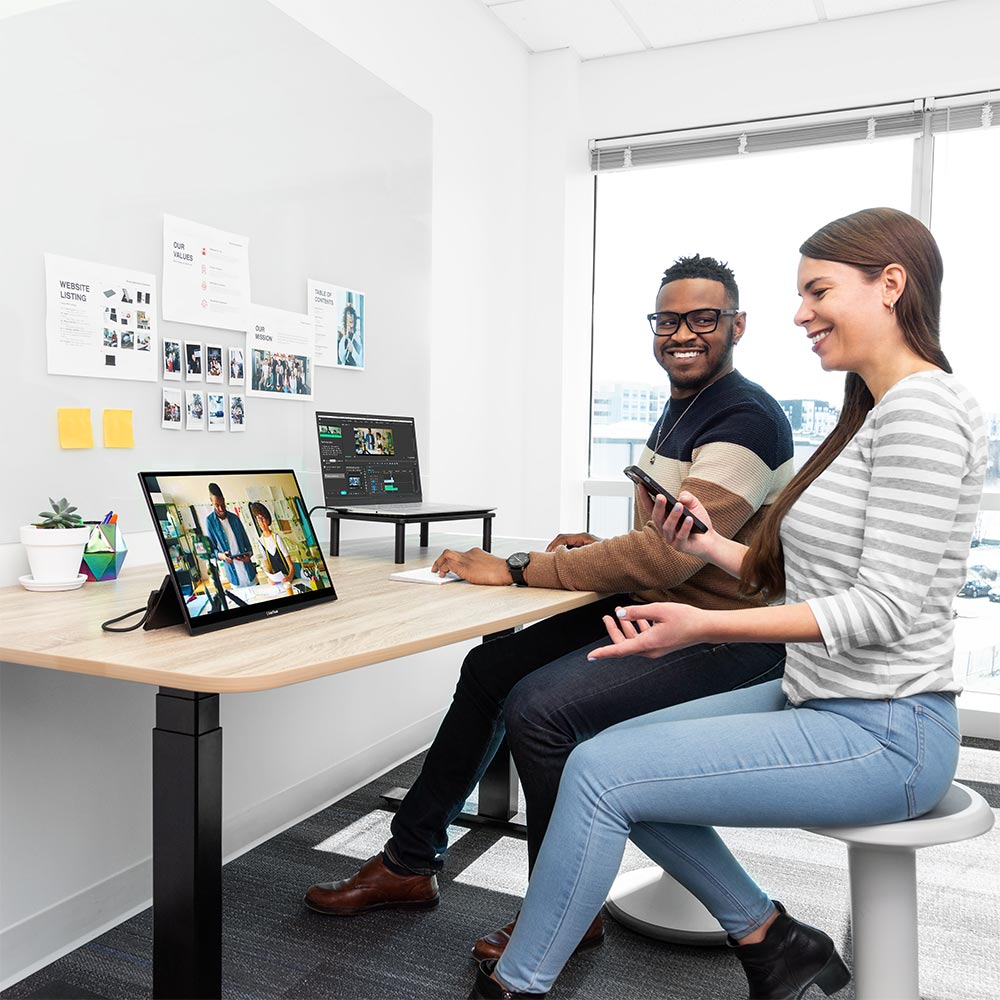 Easily Collaborate
The sharing capacity of this second screen makes coworker collaboration a whole lot easier. Deliver crisp, high-quality photo and video presentations, or use your second screen to dial in the perfect background for your next online meeting. Turn the screen to your cohort for their input and opinion, or let them run the show without having to change chairs.
Work, Stream, and Play
This first-class monitor does triple duty with its unstoppable capacity to work, stream, and facilitate play. The HDR display and 8ms response time bring captivating quality to videos and games alike. Built-in speakers complete the picture so you can move through both work and play on this second screen.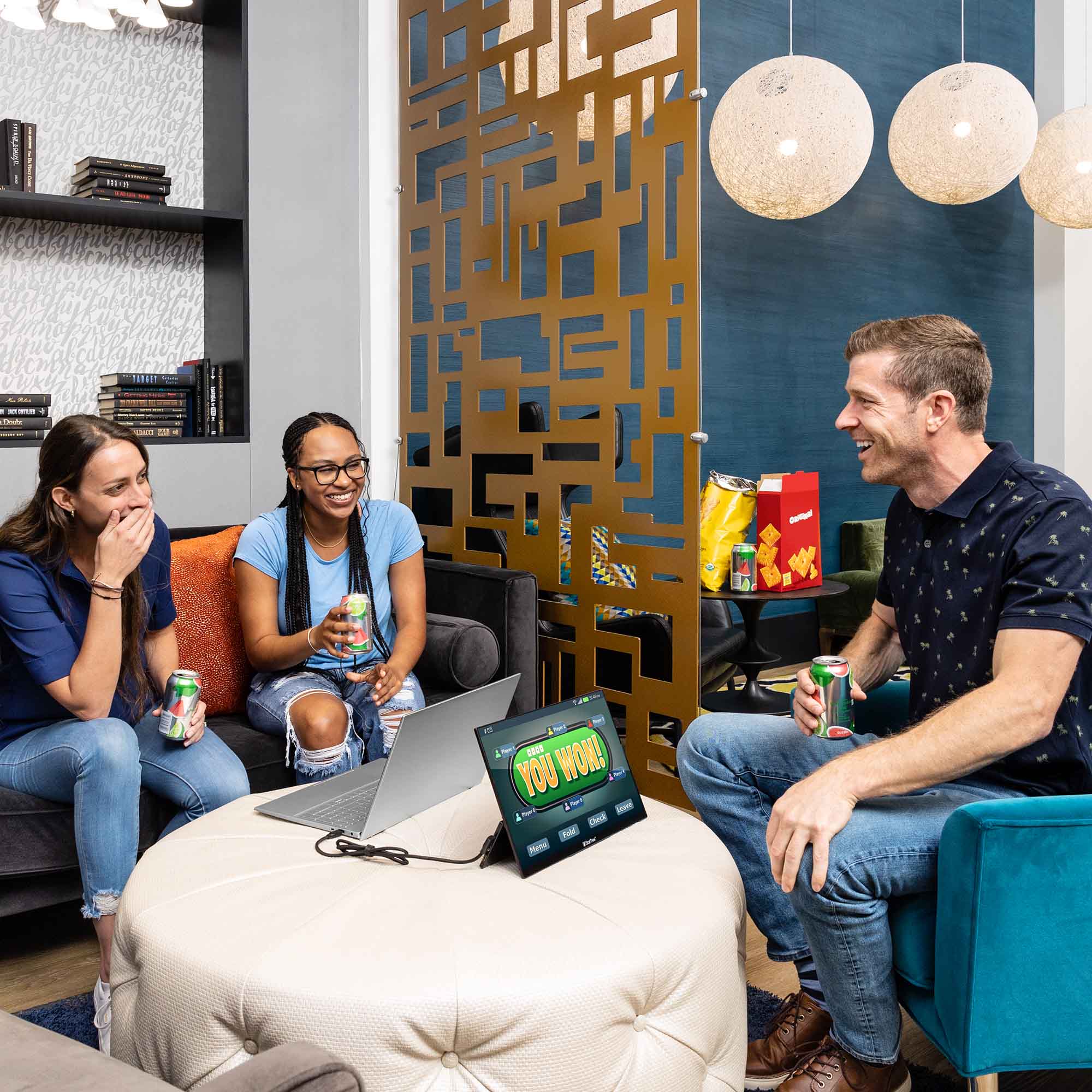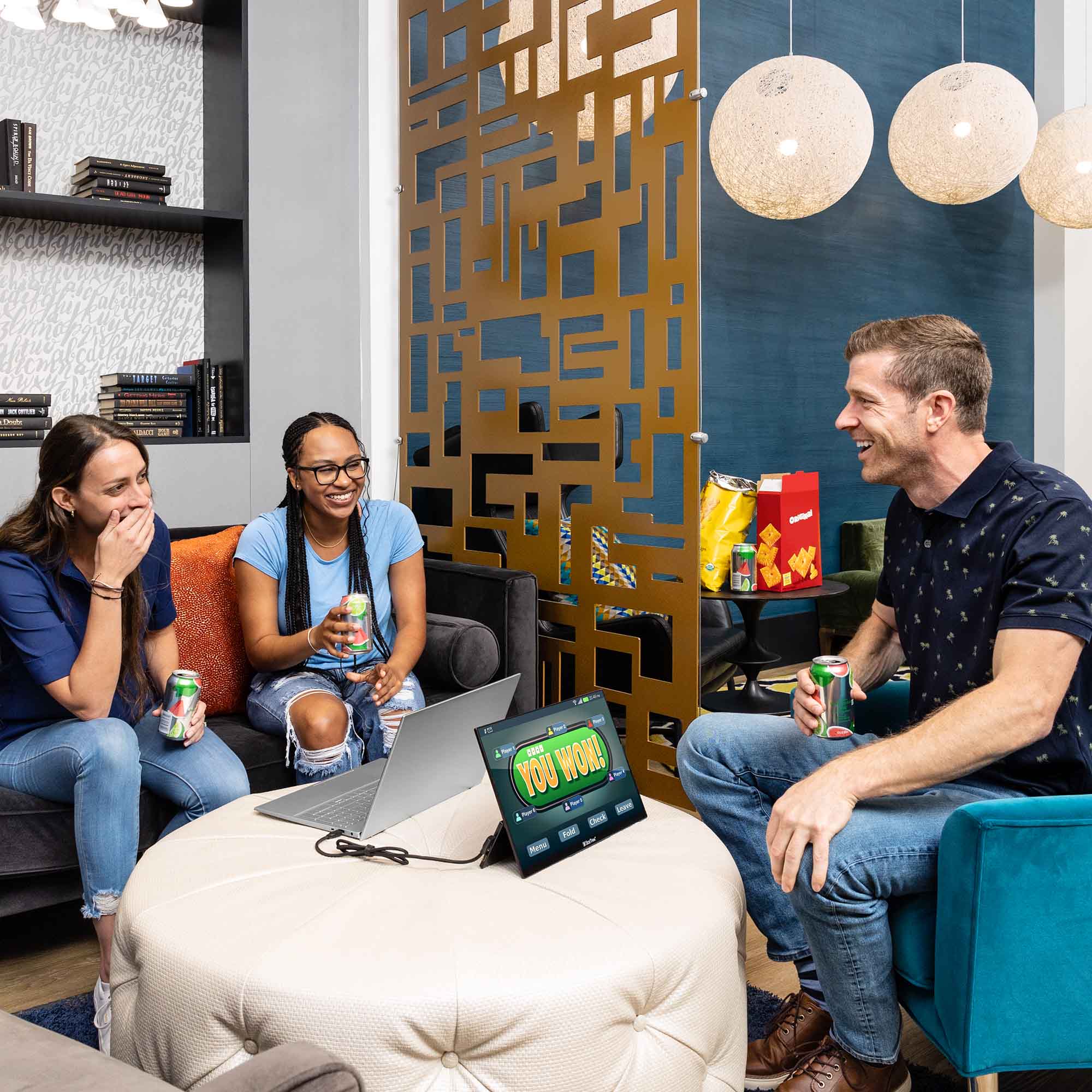 COMPARE PRODUCTS
$299.99
Stunning FHD touchscreen monitor that has incredible picture quality and adjustable display settings. 
15.8" Full HD LED touchscreen display

 

Accurate & responsive 10-point touch G+FF technology

 

Amazing streaming experience with HDR & FreeSync

 

Stunning wide color gamut and 8-bit color display

 

Slim, lightweight & durable design

 

Adjustable brightness, volume, and display settings

 
CURRENT SELECTION
$319.99 - $349.99
Game-changing portable monitor with a patented 360º swivel design that doubles your screen space.
Full HD portable monitor with crisp 1920 x 1080 resolution
Exclusive 360° swivel hinge and 270° screen rotation
Attaches seamlessly to any laptop with a hidden magnetic plate
Freestanding functionality with built-in kickstand and autorotation
Durable, lightweight frame folds flat for effortless travel
Compatible with Windows, Chrome, and Mac
See Full Details
$249.99
Sleek, freestanding portable monitor that is designed to boost productivity and efficiency from anywhere.
15.8" Full HD anti-glare LED display

 

Amazing streaming experience with HDR & FreeSync

Stunning wide color gamut and 8-bit color display

 

Slim, lightweight & durable design

 

Ultra-thin bezels & sleek, matte finish

 

Adjustable brightness, volume, and display settings

 
See Full Details